10 Minutes with A Day To Remembers Neil Westfall
by Cameron Edney
Guest Staff Writer —
Still riding high on the wave of their forth studio album What Separates Me From You, American rockers A Day to Remember are set to return to Australia this month to take part in the upcoming Soundwave Festival alongside Thursday, System of a Down, Machine Head, Bad Religion and many more.
I had the pleasure of catching up with A Day to Remembers guitarist Neil Westfall to discuss the bands return to our shores so soon after their recently sold-out shows, writing for the follow up to the bands most successful album to date and more. This is what Neil had to say…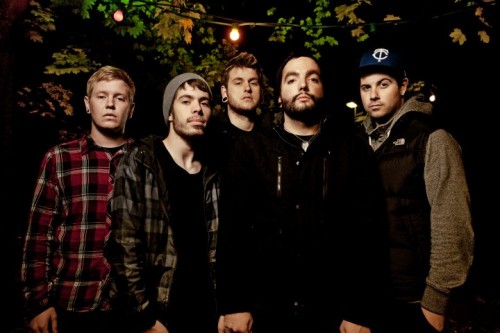 Hardrock Haven: Hi Neil, it feels like it wasn't all that long ago since your last Australian visit, you must be really excited to be returning so soon for the Soundwave Festival?
Neil Westfall: Yes of course! We can't wait to be back, we are going to eat Nando's every day.
Hardrock Haven: The upcoming Soundwave Festival line-up is unreal; will you be putting time aside to check out many of the bands billed?
Neil Westfall: I'll be watching System of a Down, Limp Bizkit, and Thursday's Full Collapse set for sure.
Hardrock Haven: You're no stranger to touring Australia; having played here a number of times now, what fond memories do you have from your previous Australian visits?
Neil Westfall: Eating lunch with the Descendants last time as pretty cool! Meeting Davey Havock in a hotel lobby was great too.
Hardrock Haven: With so many bands featured at the Soundwave Festival what separates A Day to Remember from the rest, why should the punters come check you guys out?
Neil Westfall: Well, we have a CD out called What Separates Me From You listen to it, it explains everything.
Hardrock Haven: No doubt your fans are thrilled to see you back here again so soon; do you have anything special planned with these upcoming shows? Will there be some obscure tracks thrown into the set-list?
Neil Westfall: Of course, we'll try and make it cool for people that have seen us four or five times, and for the people seeing us the first time.
Hardrock Haven: Neil, you're one hell of a guitarist, these days do you do anything specific to warm up and prepare for a show?
Neil Westfall: No, well, three shots of Crown Royal and a couple of stretches if I remember… then play.
Hardrock Haven: Neil, when you hit the studio to record What Separates me from You, did you approach it in a different way to previous albums?
Neil Westfall: Well, we tuned our strings real good, turned our amp up to eleven and we just rocked that shit.
Hardrock Haven: With every studio session I'm sure you walk away having learned something new whether it's a finger technique, playing with amp levels or using different pedals and effects to create that perfect sound. What did you walk away from those sessions having learned that you want to incorporate on the next album?
Neil Westfall: I learned how to play guitar, and want to incorporate that into the next record!
Hardrock Haven: [Laughs] It's been a little over twelve months since the album was released and you have been touring like crazy ever since. Have you even started writing, talking about the next studio album?
Neil Westfall: Oh yeah, we are always writing and talking about new songs. We have tons of ideas right now.
Hardrock Haven: What are your thoughts on the next album, would you like to see the band go in a heavier direction, more mellow direction, can we expect it to be musically a lot like previous releases or do you think you guys will change it up a bit?
Neil Westfall: Uh, if it was up to me I would take it in the experimental Eastern India route. Sitar, snake charmers but that's just me.
Hardrock Haven: Neil we've hit the part of the interview where our readers get to find out more about the real you… what was the first concert you attended and how much of an impact did that have on you musically?
Neil Westfall: My first concert was Blink 182 and New Found Glory. It had a large impact on my life, not just my music. I'm still a huge fan of both bands today.
Hardrock Haven: Did you always want to be a guitarist or were your goal different growing up?
Neil Westfall: I guess I always wanted to be a guitar player. I started wanting to be a bass player but when my parents told me they would buy me an instrument I switched to guitar since it was more expensive.
Hardrock Haven: Looking back to when the band first started, did you ever think that you would get to the point the band is at now, what expectations did you have back then?
Neil Westfall: To be honest I never really thought about that. We were just thinking about being able to play in another town or the Social in Orlando.
Hardrock Haven: Mate, you've been fortunate now to last in an industry that see's so many artists come and go, what do you feel has been the most important lesson you've learned to date?
Neil Westfall: Stick to your goals. Stay true to your music. Have fun. Make friends.
Hardrock Haven: Just before we wrap it up you're back in Australia this month for the Soundwave Festivals… What other plans are in place?
Neil Westfall: After Soundwave we are going to a bunch of new countries we've never been to like Indonesia and Thailand. Then we're headed to Japan again.
Hardrock Haven: Neil, thanks again for your time today, it's been a pleasure. Do you have any last words for our readers?
Neil Westfall: Thank you for listening to me, I know it was painful.