Iron Fire | Voyage of the Damned
by Justin Gaines
Staff Writer —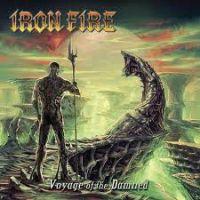 Voyage of the Damned is the seventh studio from Danish power metal band Iron Fire. Good old Iron Fire. You know, with the cheesy name and the cheesy album covers and the cheesy songs about battles and metal warriors. Shove 'em off to the side with Metalium and Sacred Steel and the rest of the Hammerfall knockoffs, right? Not this time. The band has always been good at what they do, but what they did was pretty formulaic and predictable. With Voyage of the Damned Iron Fire made a concerted effort to change things and take their sound to a new level, and it paid off…big time.
As soon as you clear the obligatory instrumental opener (seriously, who really enjoys these things?), you start to hear a very different Iron Fire emerge. Some things remain the same, particularly Martin Steene's strong, steady vocals and Kirk Backarach's melodic guitar work and intricate solos, but there's a noticeably darker vibe on Voyage of the Damned. The easy, sing-song melodies that have come to define the power metal genre are nowhere to be found. It's still a power metal album, and it's still melodic, but the melodies are more subtle and are accompanied by heavier rhythms and darker atmospheric elements worthy of Evergrey or Symphony X. There's also a complexity that puts the album in progressive metal territory on more than a few occasions. To hammer the darker focus home, Steene even adds some surprisingly well-done aggressive screams/growls. And yes, that could come across as gimmicky, but here it works quite well and perfectly suits the nature of the songs and the album as a whole. His clean vocals seem a bit deeper too. The band treads new ground lyrically as well, opting for a focus on sci-fi themes instead of tales of battles and warriors, and while that is still in the fantasy realm it reinforces that this is not the same old Iron Fire album.
Voyage of the Damned is a remarkably strong album on all levels; the musicianship, vocals, songwriting and production are all first rate. As such it's hard to single out the best songs the album has to offer. The 10-minute title track is an obvious choice, but if you're looking to sample the album "With Different Eyes," "Slaughter of Souls" and "The Final Odyssey" ought to be more than enough to make you a believer.
If you think you know all there is to know about what Iron Fire has to offer, Voyage of the Damned will be a real eye-opener. It's a major step forward from the band, and is an early contender for power metal album of the year. Beyond the core power metal audience, Voyage of the Damned has the potential to make Iron Fire converts out of fans of progressive metal bands like Evergrey and Symphony X as well as those into more aggressive bands like Mercenary, Into Eternity and Raintime. Give Iron Fire a second chance and get ready to be blown away!
Edition Notes: The limited edition version of Voyage of the Damned comes in a digipack and includes the (very good) bonus track "Warmaster of Chaos."
Genre: Power Metal
Band:
Martin Steene (v)
Fritz Wagner (d)
Kirk Backarach (g)
Martin Lund (b)
Track Listing:
1. The Dark Beyond
2. Enter Oblivion OJ-666
3. Taken
4. Slaughter of Souls
5. Leviathan
6. The Final Odyssey
7. Ten Years in Space
8. Voyage of the Damned
9. With Different Eyes
10. Dreams of the Dead Moon
11. Verge to Collide
12. Realm of Madness
13. Warmaster of Chaos (bonus track)
Label: Napalm
Website: www.ironfire.dk
Hardrock Haven rating: 9.25/10