by Derric Miller
Staff Writer —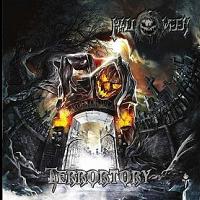 Halloween — and no kids, not the once Kiske-led Helloween — have just released their fifth studio album in their 27 years of existence. Titled Terrortory, the album somehow picks up where they left off with classics like Victims of the Night and Don't Metal With Evil. Hailing from Detroit and obviously topically influenced by the likes of Alice Cooper, Halloween plays a unique amalgam of NWOBHM intertwined with good ol' fashioned American Classic Metal. There's also Doom elements inside the interwoven tapestries of the sonic nightmares they lure you into, making Terrortory one of those albums impossible to say "they sound just like (some freakin' other band)."
How else would you want this album to begin with besides "Traipsing Through the Blood?" Before you get off track and think it's a murderous winter serial killer song, it's actually … an uplifting call to arms, a Marine-like "seize the day" anthem that belies the visceral title. "Why do we never care, until it's way too late? Why do we waste our time; we play with fate." The lyrical content is a query into cowardice, the sin of hesitation, of self-apathy. With the serrated riffing from guitarist Don Gurrier, the machine-gun like unforgiving rhythm section, and vocalist Brian Thomas' foreboding and damning delivery … the guys set the bar unbelievably high with this opener.
The title track "Terrortory" nearly holds up against "Traipsing Through the Blood." The galloping guitar riffs are the most mesmerizing ingredient in this concoction. Although simple, like an AC/DC riff, it's implants itself into your brain tissue and becomes impossible to remove even as you move on to the rest of the story.
The next two tracks alone make this album worth purchase. "Images Quite Horrible" is a nasty, Metal Church-y type composition, breakneck and frothing at the maw. Fans of that type of music will shriek when they hear "Images Quite Horrible." With deft tempo changes and an overabundance of moribund, it's a highlight. But then so is "Her Ghost Comes Out to Play." This is the first time the band dials back the speed if only for a moment, uses foreshadowing to lull you into a false sense of safety, and then pure NWOBHM-type riffs began assaulting you. "Remember when you took a life? You … murderer! Remember how you didn't care … do you … remember?" Akin to a King Diamond tale, this is Halloween at the top of their game. Every single facet of this song works; it's no wonder modern bands like Cauldron eagerly announce Halloween as one of their influences. What was once will be again …
Where Halloween runs into a corpse-filled roadblock, if there is one, is that there's so much music to digest here. Over an hour in length and with 16 songs, after a while, the songs begin running into each. Of course, that isn't the case with "Scare You," another blazing dark fantasy. "I'll never let you go; I'll be there with you, after you're dead. I will scare you!" Please don't send this to an ex on Valentine's Day — you'll find yourself under arrest or in a straightjacket, or both.
"Not One" is one of the slower tracks on Terrortory. It's an acoustic-led dirge at the onset, with Thomas' honest vocals up front and center. He wades between a forthright full voice to an eerie falsetto, not as high as King Diamond but surely just as menacing. Halloween isn't about writing ballads, though, so by two minutes into the song it goes back to that doomy, mid-tempo pace most of the songs stalk you with. Oh, and that's only song eight …
The most unnerving tracks towards the end are "Reinventing Fear" and "Hands Around My Throat." The most oddball one is the sloppy, sort of Misfits takeoff on "Say Your Prayers." The swirling and evocative "Dead On …" is Halloween reminding you to stop thinking they are a one-trick pony. Instead of funereal, it's graceful and sorrow-laden.
Terrortory, whether it finds an appropriate audience or not, deserves a listen. If you are into NWOBHM-influenced horror Heavy Metal, this is the band to check out. While seemingly blunt in its musical approach, you'll be surprised to find the multiple layers beneath the surface of tracks like "Dead On …" and "Her Ghost Comes Out to Play." Keep digging and digging until the flesh grates off your fingers … you are bound to find something worthwhile on Terrortory …
Genre: Horror, Classic Metal
Band:
Brian Thomas/vocals
George Neal/bass
Rob Brug/drums
Don Gurrier/guitars
Track Listing:
1. Traipsing Through The Blood
2. At The Gates
3. Terrortory
4. Images Quite Horrible
5. Her Ghost Comes Out To Play
6. Caught In The Webs
7. Scare You
8. Not One
9. Darkside Inside
10. Re-Inventing Fear
11. I Lie Awake
12. Hands Around My Throat
13. Say Your Prayers
14. Where Is Michael
15. Dead On
16. Into The Afterlife
Label: Pure Steel Records
Online: www.halloweentheband.us
Hardrock Haven rating: 8/10