MyChildren MyBride | MyChildren MyBride
by Mark Allen
Staff Writer —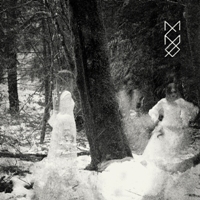 Christian melodic metalcore mavericks MyChildren MyBride (MCMB) return with their third offering and while self-titled albums are often indicative of a band trying something fresh and new, what you get on this eponymous effort is meat-and-potatoes metalcore. Hey, nothing wrong with that. Sometimes you don't crave gourmet cuisine; you just want to sink your teeth into a nice, juicy burger with nothing more than ketchup and pickles for garnishment. MyChildren MyBride is a hamburger metalcore album.
That said, this hamburger is well done (get it?). Not only is the band technically proficient and the engineering superb, but MCMB manage to be catchier than your typical run of the mill metalcore act. And surprisingly, they accomplish this catchiness without resorting to clean vocals. Those diehards who view melodic singing in metalcore with the same disdain a bride views dog shit on her wedding dress should be impressed by what MCMB have wrought here, dishing out metalcore that sticks in your ears without pandering to the mainstream. This is a band refusing to sell out, sticking to their guns, even if it costs them crossover appeal. They are making an emphatic statement: "We are metalcore, baby, not just a heavy rock band with screams."
MCMB have no surprises up their sleeve, content to give listeners exactly what they expect: intense riffs, relentless rhythms, throat-shredding screams, larynx-destroying growls, brutal breakdowns, crushing bass, autofire blast beats, shout-it-out gang vocals… MCMB carry a metalcore check list in their pockets and make sure they tick off all the boxes. You can label them a second-tier band if you must, but the metalcore market is as over-saturated as a sponge at the bottom of the Mariana Trench and not everyone can be the best. Still, even if they're not quite worthy of the pinnacle, MCMB are still pretty damn good…though given their Christianity, they might object to the use of the word "damn."
Speaking of the band's biblical mindset, they make no effort to mask their beliefs like so many other metal bands who like to raise their hands like little kids in Sunday School class and say, "Hey, we're a Christian band," but then engage in lyrical twist-a-knot to obfuscate their faith for fear of offending the secular market. Whether or not you subscribe to the theology is irrelevant; a Christian band should be compelled to include Christian content in their message and failing to do so should subject them to the same level of ridicule a satanic metal band would endure if their album failed to mention death, destruction, Lucifer, demons, and heaping gobs of ungodliness. With lyrics like "Blood bought salvation / All they have to do is receive" and "We are bathed in blood that is not our own / We will be cloaked in immortality," MCMB leave little doubt where their spiritual allegiance lies. Thank God, pun intended, they have the guts to put some proof in the pudding when so many other bands want to force-feed you the pudding with no proof.
MyChildren MyBride does nothing that transcends the genre, but it doesn't need to. Sometimes all you want from a metalcore album is for it to come in like a raging whirlwind and get the job done. The album may be missing that elusive "wow" factor that prickles the nape-hair and makes your knees quiver like a virgin on her wedding night, but it still offers plenty of headbanging excitement.
Genre: Metalcore
Band:
Matthew Hasting (lead vocals)
Robert Bloomfield (rhythm guitar, backing vocals)
Joe Lengson (bass guitar, backing vocals)
Mathis Arnell (drums)
Hunter Walls (lead guitar)
Track Listing
1. Morpheus
2. Anathema
3. God of Nothing
4. The Endless
5. SAMCRO
6. Dreamcatchers
7. Black Cloud
8. Hell or High Water
9. Observer
10. No One Listens, No One Cares
Webpage: www.facebook.com/mychildrenmybride
Label: Solid State Records
Hardrock Haven rating: 7.5/10