Halestorm | The Strange Case of …
by Mark Allen
Staff Writer —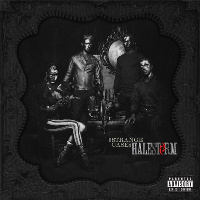 Like a rock 'n' roll praying mantis, Lzzy Hale seems like the kind of gal that will slam you to the floor, mess you up in the roughest, most erotic way imaginable, and then rip your head off your shoulders when she is done. And as you are bleeding out from your torn neck stump, with your final gasp you would say thank you.
Halestorm's major label debut came loaded with venomous sex appeal wrapped in powerhouse drums, beefy power chords, and catchy melodies. Well, Halestorm stared the dreaded sophomore slump dead in the eye and it was the sophomore slump that blinked first and went slinking away in tucked-tail defeat. This new album ups the ante on f*ck you attitude while simultaneously cementing Lzzy's status as the new queen of hard rock. This girl has a serious set of lungs on her, capable of reaching jaw-dropping notes one moment and dropping into a sultry snarl the next. She is not just one of the best female vocalists the genre has ever seen, she is one of the best vocalists the genre has ever seen, period.
While Lzzy may be the centerpiece, she is ably backed by a group of guys equipped with serious chops. Halestorm as a whole understand the dynamics of the rock genre, the sort of unbridled recklessness and freewheeling fury that the best bands bring to the party. Call this modern hard rock if you must, but only by virtue of the big budget studio production; bubbling just beneath the surface gloss is just a badass heavy rock album. Halestorm eschew the poppy allure so prevalent in today's hard rock in favor of something saturated in the full-throttle power of '80s metal.
The band's only serious misstep is the ballad block in the middle of the album. After cranking out four kickass rockers, Halestorm slow things down for a ballad…then another ballad…and yet another. It doesn't just drag the momentum down; it slaughters it like a crippled lamb. It is testimony to the band's excellence that they recover from this what-the-hell-were-they-thinking decision, but seriously…what the hell were they thinking? One ballad would be tolerable, but three would be overkill even if spread out over the whole album. Cram them all together and it's damn near disastrous. Besides, Lzzy's persona is badass rocker chick and we want to hear her sing badass rock 'n' roll, not softly croon about romance and whatnot. That's what we have Amy Lee for.
Maybe the band just wanted to get the boring stuff out of the way, because as soon as the ballads are done, they get right back to rocking, delivering three of the album's best tunes. "Daughters of Darkness" is the heaviest, opening with some angry "na-na-na-na-nas" and then proceeding to slam, smash, pummel, and pound your ears with aggression. Subtle, it is not. Awesome, it is. "You Call Me a Bitch Like It's a Bad Thing" could serve as Lzzy's theme song lyrically–"You call me a bitch like it's a bad thing / You call me a freak like that means something / I don't give a shit"—and musically will rock your face off. The album then ends with the rock-ballad "Here's To Us," which pulls off the tough task of sounding tender and nostalgic while using copious amounts of profanity: "Here's to us / Here's to love / All the times that we fucked up / Here's to you / Fill the glass / 'Cause the last few nights have kicked my ass / If they give you hell / tell 'em to go fuck themselves." If that doesn't give you the warm and fuzzies, nothing will.
Actually, warm and fuzzy—not to mention smiling from ear to ear—is what every hard rock aficionado should feel like when they finish listening to this album. It is a distortion-filled delight, a metal-edged masterpiece, a power chord paradise. In other words, this album rocks like a bitch, and yeah, that's a compliment.
Genre: Hard Rock
Band:
Lzzy Hale (vocals)
Arejay Hale (drums)
Josh Smith (bass)
Joe Hottinger (guitars)
Track Listing:
1. Love Bites (And So Do I)
2. Mz. Hyde
3. I Miss the Misery
4. Freak Like Me
5. Beautiful With You
6. In Your Room
7. Break In
8. Rock Show
9. Daughters of Darkness
10. You Call Me a Bitch Like It's a Bad Thing
11. American Boys
12. Here's To Us
Label: Atlantic Records
Hardrock Haven rating: 8.75/10