by Justin Gaines
Staff Writer —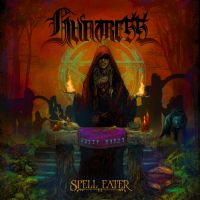 You know those female-fronted metal bands where a rousing symphonic arrangement sets the stage for a doe-eyed waif in a Stevie Nicks dress to emerge, much like a delicate flower, to serenade us with a light and airy operatic verse – possibly about leaves and/or faeries – before giving way to a gruff, growling male vocalist to handle the metal side of things? Well, Huntress is not one of those bands, so if that's your cup of watered-down tea you're in the wrong place. Yes, the California-based band has a female vocalist (one Jill Janus), and yes, she is smoking hot (which is probably irrelevant but undeniably true), but Huntress isn't a female-fronted metal band coming off the Nightwish assembly line. They're a full-on, balls-out heavy metal band, and a damned good one at that.
Spell Eater is the band's first full-length release (after a series of singles/EPs), and it's a real kick in the teeth. At heart, it's a traditional heavy metal album that draws influence from bands like Judas Priest, Accept, and Leather-era Chastain, though the most apt comparison is probably another California-based band with a powerful female vocalist – Benedictum. Huntress takes the basic old school metal formula and injects a major dose of intensity, namely a ton of neck-snapping thrash-style riffs, blistering solos, and a very versatile vocal performance from Janus. She can go from a clear midrange to a piercing scream to an almost death metal growl at will, and her performance definitely gives Spell Eater an added dose of power.
Spell Eater is a very strong heavy metal album from start to finish, but there are a few songs that really stand out, such as "Eight of Swords," "Children" and the title track, all of which are guaranteed to get your head banging.
Obviously an album like Spell Eater is going to appeal to fans of bands like Benedictum, Chastain/Leather and Hysterica, but Huntress ought to more than satisfy just about any fan of old school traditional heavy metal, whether that's classic bands like Priest and Accept or the new wave of traditional metal bands like Widow, White Wizzard and Enforcer. Either way, it's good to see another female-fronted metal band that actually puts the metal first.
Genre: Heavy Metal, Traditional Metal
Band:
Eric Harris (b)
Carl Wierzbicky (d)
Blake Meahl (g)
Ian Alden (g)
Jill Janus (v)
Track Listing:
1. Spell Eater
2. Senicide
3. Sleep and Death
4. Snow Witch
5. Eight of Swords
6. Aradia
7. Night Rape
8. Children
9. Terror
10. The Tower
Label: Napalm
Website: http://www.huntresskills.com
Hardrock Haven rating: 8.25/10