LIVE! | Hornet, The Burning Crows & Black State Highway
by Jimmy Millard
Guest Writer —
March 29, 2012 at THE INTREPID FOX, SOHO, UK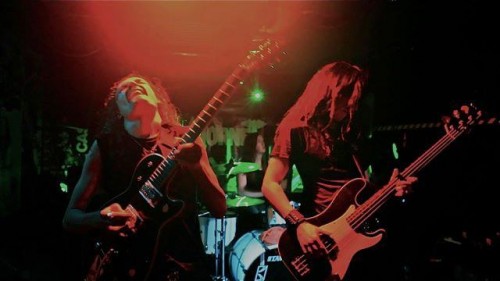 It was Thursday night and I and a few mates decided to head down town for the Hornet show with support from The Burning Crows and Black State Highway at The Intrepid Fox. After reading a live review from last months show online and watching the band's videos on their website I was excited to see their thundering show right in front of me for my own two eyes. My original plan was to drink round the corner beforehand for a few quick pints until three girls in Hornet T-shirts approached us in the street handing out flyers for the gig (which we were already going to) and managed to convince us to head straight to the venue for drinks and a good time… so we strolled up to The Intrepid Fox, one of London's best rock bars, grabbed some drinks and walked upstairs to wait for the first band of the night Black State Highway.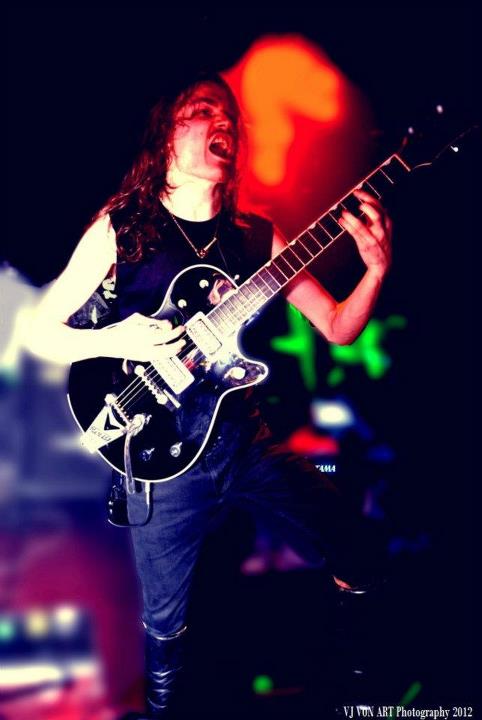 Black State Highway ripped into a powerful classic rock onslaught reminiscent of Led Zeppelin topped with a modern southern rock twinge. Lead vocalist Liva Steinberga had a strong domineering rock voice which was refreshing to hear as girl vocalists in rock bands tend to go for the Hayley Williams look and sound which I find very cliché but not these guys! It was a very tight set from Black State Highway with some very skilled musicians, however for me the visual performance wasn't very exciting but I do think the music did the talking very much so for these guys and the more this band plays live the further I think they will go. They are definitely worth watching live, so go check them out.
More and more people were entering the venue and things were starting to heat up (literally) with the anticipation building strong for the current talk of the town Hornet. Tonight's main support act came in strong with The Burning Crows and I was looking forward to seeing what they had to offer, I had heard good things. The Burning Crows took to the stage and quickly livened things up with their high energy rock 'n' roll. Played hard and well these guys gave off an overall sound of Steel Panther (minus the jokes) meets Ratt with hints of 'DC. Vocalist/Guitarist Whippz did a stellar job to liven the ever building crowd up between songs and the whole band kept the music on lock down with drummer Chris Chapman, Bassist Will Lockett and guitarist Lance Daniels. The band claim they spent innumerable hours on the road, playing countless shows to master their craft and it really does show. Check these guys out as they went down a treat!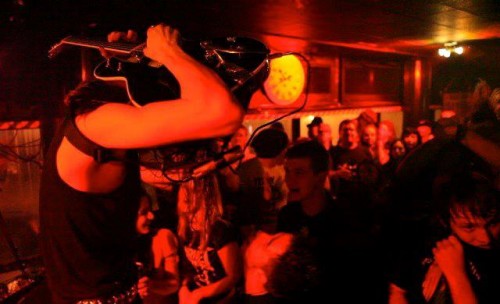 Next on stage was Hornet the band that both my friends and I had been waiting for and from the reaction of the room that's what everyone had really been waiting for all night. By now the room was packed out and it was ridiculously hot, however Hornet burst onto the stage and opened with 'Down To The Bone' which had a real thumping guitar riff. Hornet went wild from start to finish and the crowd matched them jumping up and down, screaming and cheering all night long. One thing I loved was mid set when Joe Thompson took out his camera and asked the crowd to raise their hands in the air and scream 'HORNET' whilst he took a picture. What a great idea and something I've never seen before at any gig.
Thunderous Bassist, Max Thompson kept it tough and tight with Drummer, Alex Burt who was hitting hard and heavy and kept the groove down impeccably which allowed guitarist, Tollef Rikje-Pearson to play riffs and solo to his hearts desire and together with vocalist and frontman Joe Thompson they ruled the stage. There was some fantastic songs in Hornet's set and I enjoyed them all but my particular favorites were 'Drive On' and 'Under Pressure' they had huge hooks and chorus' and are real sing-a-long songs. It's a shame the band don't have an album out yet as I desperately wanted to buy one that night but for now their three track EP will do.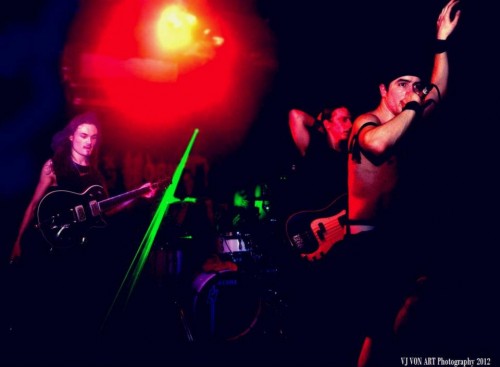 As we know all good things come to an end and after a hot and sweaty 45 minutes Hornet played their final song 'Rock 'n' Roll Riot' and brought their set to a impactful close. Brothers Max and Joe Thompson along with Alex Burt and Tollef Rikje-Pearson came to the front of the stage and bowed as their strong and loyal fan base shouted for an encore which the band then preceded to play. Their final song allowed their fans to mosh and go mad once more before the end of the night.
After a superb night I'm already prepared for the next Hornet show at The Intrepid Fox with two other great bands Wasted Sinners and Four Wheel Drive on Thursday 26th April 2012. Make note people the yellow and black army are invading. See you at the front!