15 Minutes with Foreigner's Thom Gimbel
by Alex Barbieri
– Columnist —
Thom Gimbel. You may not be familiar with the name, but he's played in two of the world's biggest rock bands: Aerosmith and Foreigner. Currently, Gimbel is crossing the country on Foreigner's summer 2012 tour promoting their new live CD, Alive & Rockin. He took 15 minutes to talk with HRH about his favorite memories on tour, the impact of the "Rock of Ages" movie on the band, and his second passion—golf.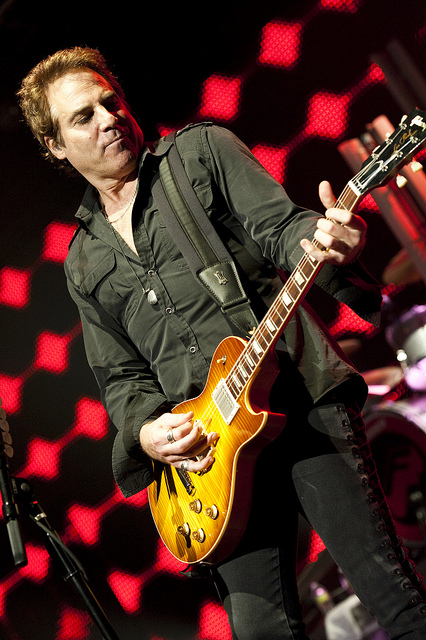 Hardrock Haven: Thom, you're my new hero. You get to tour the world in one of the planet's most popular rock bands, and in your downtime, play golf in celebrity tournaments. Plus, you can probably walk around any Walmart without being hassled. When you were learning saxophone and flute as a kid, and going to Berklee College of Music in Boston, do think it would work out so well for you?
Thom Gimbel: Hi, first of all, thanks for the kind compliments! Regarding that first question, I definitely dreamed of these days when I was younger, just starting out. I think I thought that, if I worked as hard as I could, with some luck maybe some good things would happen someday.
HRH: Tell us what a typical day on tour with Foreigner is like for you. What time do you usually wake up and what do you have to do on show days?
TG: Every day is so different, but usually it's wake up, try to figure out what day it is, coffee, breakfast, go to the gym and then go to the show and get ready to rock!
HRH: "Cold As Ice," "Double Vision," "Hot Blooded," "Urgent," "Jukebox Hero," "Waiting For A Girl Like You," "I Want To Know What Love Is," the list goes on. What is your favorite to play live? Is it "Urgent" for the killer sax solo?
TG: I really, truly, immensely enjoy playing every song that we do. I have no favorite!
HRH: One of my personal favorites is "Starrider," a song from the first album that Mick Jones sings and you play flute on.
TG: Yes! "Starrider" is a huge hit with our audiences. I love playing the flute parts and seeing Mick Jones light up his guitar. It's cool to hear him sing too.
HRH: A recent press release announced that the movie "Rock of Ages" sent downloads of Foreigner songs skyrocketing, and the band has three hits on the soundtrack: "I Want to Know What Love Is," "Juke Box Hero" and "Waiting For A Girl Like You." How has the movie impacted the band's live shows? Are you seeing bigger audiences out there this summer?
TG: We have been enjoying huge audiences each year. And yes, you are spot on, attendance seems to get even larger with more exposure in the media/arts.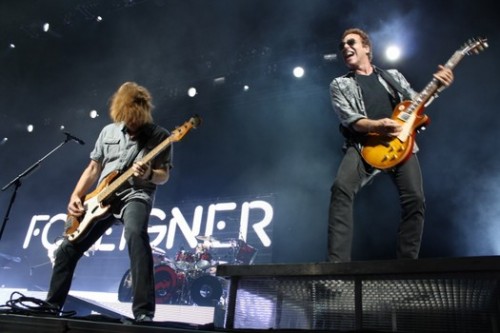 HRH: Let's go back to 1989 when you joined Aerosmith for their "Pump" tour. Did that blow your mind, and what are some of your favorite memories of touring with the band until 1995?
TG: Whoa!! Lots of long answers available to that short question! Ok, yes, it was mind boggling to tour with, and get to know those guys.
Favorite memories would be:
Woodstock 2. Over 200,000  people.
MTV Unplugged.
Saturday Night Live, all four times.
Wayne's World 2.
And doing so much vocalizing with Steven Tyler. We had a lot of laughs while doing vocal warm up exercises, which was a daily ritual.
HRH: What are some highlights of the tour last year with Journey and Night Ranger? Did you ever get mistaken for Neal Schon? You two could be brothers.
TG: Neal and all of the Journey guys, and all of the Night Ranger guys, were amazingly cool to tour with. Great times, record-setting attendance, and amazing performances by all three bands each and every night.
It would be an absolute honor to be mistaken for Neal Schon, although that has not happened. I did have one very funny photographer kid me once about it by saying, "Dude, you were great in Santana!"
     
HRH: OK, let's talk golf for a bit. What are some celebrity tournaments you've played in and any interesting stories from them?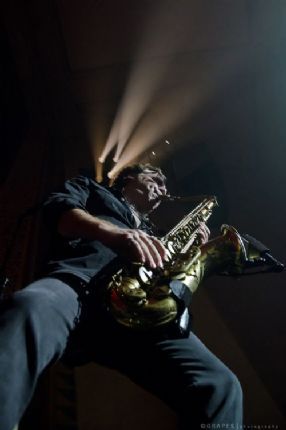 TG: Are you kidding?!! The stories I could tell! Ok, the best one was always the annual KLOS Mark & Brian Celebrity Golf Tournament/fundraisers from 2000 through 2004 in Los Angeles.
The night before we would all check in to the resort  and have a huge dinner party. And I mean PARTY. After dinner, we would have a sing along around a piano. What a scene—guys would sit down next to me on the piano bench.
I remember looking next to me and seeing Fee Waybill from The Tubes, and Kevin Cronan and Dave Amato from REO Speedwagon, and Steve Lukather from Toto, plus countless others—all of us singing and partying and laughing until our stomachs hurt. 
The best part was that Mark and Brian raised a bunch of money to help kids who really needed and still need help. Those tournaments benefit The Make-A-Wish Foundation.
HRH: Besides golf, what are you involved in outside of Foreigner? Any charities or organizations you want to plug?
TG: Yes, absolutely.  We mostly try to help out with VH1's Save The Music program and the GRAMMY Foundation. Both help schools in danger of having music programs cut from their budgets.
HRH: Is there anything you want to say to Foreigner's fans, and the Hardrock Haven readers around the world?
TG: Just, let's just keep rockin'! I believe that rock music is based on great songs and performances and an attitude and energy. That is what we, and our audience, is all about! Come on and "join together with the band!"
HRH: Thom, thanks again and I'll see you guys live August 2 at Alive@Five in Stamford, CT. Keep hitting 'em straight!
TG: Thanks Alex, you sound like a golfer. Let's tee it up some time. Hope to see ya at the show!
Visit Foreigner's official website:
http://www.foreigneronline.com/
Like Thom Gimbel on Facebook:
https://www.facebook.com/pages/Tom-GimbelForeigner/158766497540283
Order Alive & Rockin' on Amazon:
http://www.amazon.com/Alive-Rockin-Foreigner/dp/B007OCD1FI/ref=sr_1_2?ie=UTF8&qid=1342633216&sr=8-2&keywords=foreigner+alive+%26+rockin