3 Pill Morning | Black Tie Love Affair
by Mark Allen
– Senior Columnist —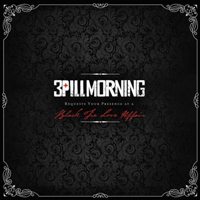 3 Pill Morning have hit the modern rock scene, not with the intention of revolutionizing the genre, but providing another high quality addition to its sometimes stagnant pantheon. Some have dubbed this style of music "fast food rock 'n roll," and while they are not really wrong, who among us has never simply craved a Big Mac and fries instead of a fancy four-course meal? With their slick production and uncanny ability to craft a killer hook and sing-along chorus, 3 Pill Morning offer instant ear candy gratification.
As modern rock ear candy goes, this is good stuff, more than ready to hold its own against the big boys like Hinder, Nickelback, Saving Abel, etc. Actually, this annihilates pretty much anything the massively overrated Saving Abel has ever released, but that may be a digression not worth taking…except we just did. So, getting back on track…
Every song is a keeper—your Skip button may develop abandonment issues while this album is playing—and with every track clocking in right around the tri-minute mark, they come in, get the job done, and move along without overstaying their welcome. Kind of like a male gigolo that specializes in quickies. Call it disposable commercial fluff if you must, but it's very enjoyable commercial fluff.
3 Pill Morning bring energy to their sound and caboodles of crunchy guitars. No, it's not Megadeth… but it's not Richard Marx either. Black Tie Love Affair is a punchy album, packed with catchy beats and get-your-body-moving grooves, not to mention sharp choruses that snag your ears on the spot. Sure, originality is a scarce commodity and longevity may be an issue down the road, but in the here and now, this is as enjoyable as a gallon-sized Grape Slurpee on a hot summer day. Some bands want to rage against the corporate rock format, but 3 Pill Morning have embraced the tried and true (and sometimes trite) tropes and simply delivered what fans of this genre want to hear. It's easy enough to criticize if you are so inclined…but it's even easier just to cast aside your pretensions and enjoy the ride.
The song quality remains consistently high, though there are, naturally, peaks and valleys—rare indeed is the album that can maintain perfection for its entire duration. Still, for the most part, Black Tie Love Affair maintains a high plateau from start to finish. "Rain" kicks the album off in fine fashion, an infectious rock song with riffs that are impossible to resist and a sultry groove that penetrates and then activates the pleasure centers of your brain. Those who enjoy things on the sleazier side will get a kick in the crotch from "Skin," which pumps out a plethora of pandering hooks, panty-dropping lyrics, and one of the catchiest refrains on tap. The band experienced some indie success with "Loser" and it resurfaces here to show why, whiplashing out of the gate with all cylinders smoking. Just before the album closes, you get "Revolution," the kind of gang vocal, fist-pumping, arena-ready rock anthem custom-designed to be blasted from stadium speakers during an NFL game. Expect this song to appear on an ESPN highlight reel any day now…
Honestly, aside from a somewhat conformist approach, there are precious few negatives to fire at these hard rockers. They dish out fun, easily-digestible modern rock with a sense of integrity that's easier to swallow than a sugar-filled placebo. They may not usher in the dawning of a brand new trend in rock music, but that's not their goal and not every band needs to be cutting edge to be worthy of attention. Modern hard rock connoisseurs who don't check out 3 Pill Morning deserve to be beaten until they are black and blue.
Genre: Modern Rock
Band:
Jeff Stebbins (vocals)
Ryan Walch (guitar, keys)
Charlie McCoy (bass, vocals)
Trent Laugerman (drums)
Track Listing
1. Rain
2. Skin
3. Nothing's Real
4. Loser
5. I Want That For You
6. So Good To Leave
7. Take Control
8. Daddy's Little Girl
9. Revolution
10. Drive By Lies
Label: A2Z, Page 2 Music, eOne
Webpage: www.3pillmorning.com
Hardrock Haven rating: 8.7/10