Blacksmith | Time Out of Mind
by Justin Gaines
– Senior Columnist —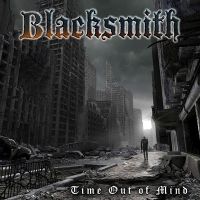 Originally recorded in 1991, but never officially released until present day, Time Out of Mind is the second full-length album from New York-based cult heavy metal heroes Blacksmith. It follows the Heaven and Hell label's successful Blacksmith collection Strike While the Iron's Hot and a string of high-energy live performances from the recently-reunited band. Heaven and Hell calls their reissue series "Lost Relics," and that has probably never been more apt than with this release. Time Out of Mind is an album that otherwise never would have seen the light of day – long rumored to exist, but never actually heard… until now.
By 1991, the thrash metal explosion was in full force, and that was not lost on the members of Blacksmith. The band's 1989 full-length debut Fire From Within already found the band taking their sound in a harder, faster direction, and they continued that direction on Time Out of Mind. You can still hear the classic heavy metal influence, but that definitely comes in second to the kind of high-speed riffing and breakneck rhythms you'd expect from bands like Vicious Rumors, Powermad and to some extent Overkill and Forbidden. Guitarist David Smith just blazes away here, especially on the blistering solos, and vocalist Malcolm Lovegrove seems to have turned up the intensity of his own performance to keep pace. Smith and Lovegrove play off each other very well here, all against the solid rhythmic backbone Chris Caglione and Chris Madsen provide.
Time Out of Mind is a very strong album overall, and a great example of how the thrash and traditional metal sounds intersected at the time. It does have some standout songs, most notably the anthemic "Burn Down the World," the high speed assault of "Powerhead" and the punishing album closer "Live/Die." The unlisted eleventh track – a very metal version of The Ramones' "Blitzkrieg Bop" ends things on a lighter note.
The only downside is that the sound quality is not what it should be. Basement Studios' Jamie King did a heroic job cleaning the album up, but given the source material the sound on Time Out of Mind just doesn't measure up to what we heard on the Strike While the Iron's Hot collection. Weighed against the alternative, which is never hearing the album at all, it's something that can be overlooked.
Kudos to Heaven and Hell Records for finally bringing this true lost relic to metal collectors everywhere. Time Out of Mind is an album that all Blacksmith fans – whether they followed the band back in the '80s or discovered them recently – will definitely want to hear.
Genre: Heavy Metal
Band:
David Smith (g)
Malcolm Lovegrove (v)
Christopher Caglione (d)
Chris Madsen (b)
Track Listing:
1. Time Out of Mind
2. Achilles Heel
3. Burn Down the World
4. Lost City
5. Powerhead
6. Pieces of Chuck
7. Wreckage
8. The Lesser Evil
9. Burn Out
10. Live/Die
11. Blitzkrieg Bop
Label: Heaven and Hell
Website: www.blacksmithusa.com
Hardrock Haven rating: 8.25/10