Guitarist Andrzej Citowicz
by Alexandra Mrozowska
– Columnist —
To learn a hard way how it feels to grow up in the Communist/early post-Communist country such as the 1980s/early 1990s Poland, but with a heart soaked with the American hard rock music… to dream big and to leave those dreams behind only to have them revived by someone who's always been one of your biggest guitar heroes… Sounds much like a Cinderella story! But that's exactly how it goes for Andrzej Citowicz – Polish guitarist, who's talent had been discovered by no one else than Warrant's Erik Turner and Jerry Dixon, what might just have placed him on his rocket to deserved stardom… who knows! Although busy with planning a follow-up to his first release Year of the Dragon, he devoted a bit of his time to talk with Hardrock Haven about how his biggest dreams are coming true now.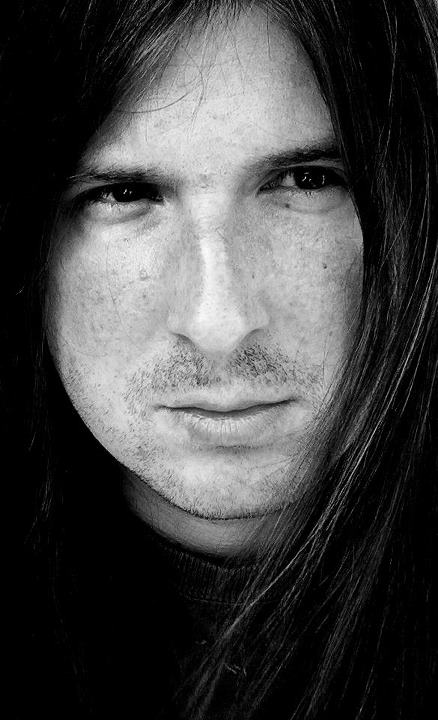 HARDROCK HAVEN: How did you musical journey start? When was it, when you've discovered the world of music?
ANDRZEJ CITOWICZ: Like any teenager at that time I was intrigued by the Bon Jovi's album New Jersey and Def Leppard's Hysteria. Their music opened my eyes to a new world of melodies, melodies that touch both heart and mind.
HRH: What was the definitive moment of picking up the guitar and who or what was your inspiration to do so?
AC: It was in 1989… you all know that ancient Egyptians had several gods and so does the rock world… and so I have my own guitar gods! Eddie Van Halen, Phil Collen… but let's say that the turning point was when I was watching MTV Music Awards 1989. Richie Sambora and Jon Bon Jovi playing "Livin' on a Prayer" and "Wanted Dead or Alive" – it all came to me…. That was it ….. this is what I wanted to do with my life; inspire people as they have inspired me.
HRH: Let's concentrate a bit yet upon that early period – what were your musical influences, whom could you call your greatest heroes? What were the first rock records you owned and the first bands you saw live?
AC: As mentioned before, I have been influenced by numerous amazing guitarists… I do not want to leave any not mentioned, but you know when you have a soft spot… It was for Richie Sambora; after all, because of him I had decided to play the guitar… Phil Collen from Def Leppard, Jon Bon Jovi, Desmond Child, all those great 80's hair bands… My first rock record was New Jersey album, of course… And the first show? If I remember correctly, it was 1991 Monsters of Rock with AC/DC, Metallica and Queensryche… those kinds of performances that leave in awe.
HRH: Which record could you call a definite soundtrack to your life and why?
AC: A life-altering soundtrack was – after my father's death – Bon Jovi's These Days… Every piece of this album, the lyrics and emotions it gave me… Yes, I can definitely say that is a soundtrack of my life – for many reasons.
HRH: There is no doubt that a geopolitical situation of our post-Communist country – Poland – had a lot in common with your early struggles as a young musician. Could you comment upon that?
AC: Growing up in the middle of a very critical political status was hard… although my parents tried to spare me the hardships they went through, I felt it nevertheless, being a son of a miner who – as a result of poor health – suffered to make ends meet. We were deprived of a lot of luxuries (as they used to call it) and so it was hard for me, as an ambitious musician, trying to make it to the music world.
HRH: In what was you tried to promote your music and yourself in the next few years, until Down Boys Records thing came along?
AC: Good question! (laughs) Well, there was a time when MySpace was my window to the world – a place where I had the pleasure of meeting a lot of people who listened to and appreciated my music. Now, of course, there's a lot of channels that help musicians like me.
HRH: There is no doubt a real breakthrough for you was hooking up with Down Boys Records. How did it start? From where you know Warrant's Erik Turner and Jerry Dixon, the guys who own the label?
AC: Yes, it's funny how fate sculptures our lives and one things lead to another… Erik Turner had been always there for me in many ways, as a band Warrant is one of my all time favorite bands, and I had the pleasure of getting to know Erik when I sent him my demos. Erik Turner and Jerry Dixon gave me a chance of a lifetime. They believed in me right from the start and through them I hope that my music will reach the whole world.
HRH: This year you've released your debut album entitled Year of the Dragon. What is the meaning of a title?
AC: It Is a funny story! "Year Of The Dragon" was a one of the first songs that Down Boys Records heard… 2012 is the year of the dragon, according to the Chinese Horoscope. In 2012 I got my contract and my very first CD ever. Plus, I was born in 1976 – it is also the year of the dragon … so, as you can see, the title has a lot of significance to me.
HRH: Could you take us through your personal highlights of Year of the Dragon, song by song?
AC: "Year of the Dragon" was actually inspired when I visited a fortune teller who informed me that I have the sign of the dragon – according to the Chinese horoscope. As a young boy I always liked dragon stories.
"For My Wife"… I met my wife in 2008 and it had been a turning point in my life, I wanted to dedicate a song for her, and that is how this piece was created.
"You're My Everything"… Love and passion have always been rich subjects for many artists but, when love is felt and lived after so many years of agony it is worth celebrating every moment of it.
"Everybody Needs Someone To Love"… Loneliness is a trigger for a lot of musicians to create lovely melodies. It was a very stressful time in my life when loneliness took its toll on me.
"Nonna"… Nonna is an Italian word for grandmother. When my wife lost her grandmother I was far away from her, we were not yet married and I wanted to contribute anything to honor the memory of this wise woman who has brought up my wife to be the woman she is today.
"On and on" is a song about time that goes by without you noticing how precious it is especially when you lose a loved person.
"Rockmageddon" has a special story. It was after watching the movie Armageddon that I decided to create my own musical piece, showing off with my guitar.
"Summertime" is about the Polish forest and the beauty of nature in the summer while having a cold beer in your hands (laughs)
"It's Tearing Out My Heart" is about all those years of Communist era in Polish history. The deprivation and fear that darkened our days… and the stolen youth…
HRH: One of the musicians engaged in the process of making the album was Dirk Arnicke. Could you tell us more about his input and influence upon the final shape of the record?
AC: Dirk Arnicke is my producer; we met by pure chance on SoundCloud, where he heard my music and appreciated it; later we became more than friends and music buddies, we became somewhat a family. Dirk is a man of vision when it comes to music… once you get him started he'll never stop! He is a perfectionist and that is what I need at this point of my life. I hope that together on my next album we dedicate a piece of our heart, mind and soul to the world… music as we feel it!
HRH: Which of the tracks off the record is your favorite and why?
AC: I guess that if I had to choose, it will be "Summertime". In this song (demo actually) I revealed myself and my deepest feelings at that time; it's a summer breeze for the people who are dreamers!
HRH: For all the readers interested in getting to know you and your works – please advise where they can do so!
AC: To all those who would like to know me better, I would be honored to get in touch with all of them through:
www.citowicz.net
https://www.facebook.com/andrzejcitowicz
http://www.youtube.com/user/Citowicz/videos
HRH: What you're currently up to is the process of recording your second album. What can we expect after this release? Will it be any different than the previous one?
AC: My upcoming album is going to be a lot different than my first. I can say that it will be more pro and again my collaboration with Dirk Arnicke… like the break of a new dawn for me. Be prepared of an 80's album in the 21st century!
HRH: You've already revealed that this album will feature a plenty of surprising and notable guest musicians. Could you lift the curtain on – at least a little bit?
AC: Too early to say but yes… I've got in store a lot of surprises… Artists I used only to read about in papers have agreed to honor my album by their presence. I'm living the dream thanks to many people, and I hope that I will please all those who are expecting my work to come into the light.
HRH: When the new album is planned to be released? Are there any further plans concerning its promotion?
AC: First single, as I mentioned before, should be released around Christmas Time this year… the rest of the album – before summer 2013. For sure, there will be a few clips on YouTube, some press releases and stuff. Right now I'm focusing on the new single… a lot of work but also, a lot of fun! (laughs)
HRH: Do your plans concern any live performances, where you could present your music to the wider audience?
AC: Well, it's too early to say – as my album is not out in the light still – but I'm open to all the suggestions once my first single is out at Christmas. For further details I invite everybody to my official site www.citowicz.net and my Facebook page.
HRH: In general, did your musical inspiration changed throughout the years?
AC: Actually I'm an eternal, faithful and loyal lover of the 80's! (laughs) It was then when I fell in love with music and there I will always be. Don't wanna say that I do not listen to nowadays music, but I can say that a very few of modern artists represent what I feel.
HRH: How do you judge the current music scene and the music industry nowadays? What is your comment upon such phenomena as illegal downloading etc?
AC: Well… The competition is a jungle now, and I am so lucky to get to have a place in the jungle, if I may say, with all the new bands, and the new styles of music that exist… It is also very exciting to see how all the young artists fight their way into the music business and how the music industry changed through the last two decades. About illegal downloading… it is a pity – honestly – because it's like fighting the unknown. Thousands of sites every day… On the other hand, I know that a lot of music connoisseurs are ready to pay for music that they like and follow the correct channels. Of course getting the fans to pay for your work is hard. There's a lot of competition, and a lot of great artists out there. I hope for the best for everybody.
HRH: What is your biggest dream concerning music yet to be come true? Who you'd like to collaborate with in terms of recording or performing?
AC: Ha! My dreams are big! Playing with Richie Sambora, making a song with Desmond Child, finding Bob Rock's name on my CD cover… it would be great to go on tour with Def Leppard or Motley Crue… Yes, maybe one day… (laughs)
HRH: Thank you for an interview and good luck in the future! Is there anything you'd like to add in the end?
AC: I'd like to say thank you to all of you who were interested to get to know an artist like me… I'd also like to ask everyone to wait patiently for my next album, 'cause you'll have a chance to taste a blast from the past in an unique style. It has been a pleasure. Thanks a lot.
Rock on, people, and never give up!!