by Mark Allen
– Senior Columnist —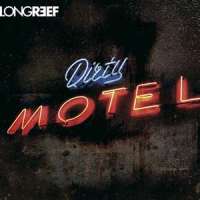 The list of successful Aussie rock bands is a long one. There's AC/DC, there's INXS, there's…uh…um…well, okay, maybe the list isn't that long after all. But there's a decent chance that in the not too distant future you will be able to add Longreef to that list of Aussie success stories. The band is currently circling the modern hard rock scene like a shark zeroing in on unsuspecting prey and when they strike, they are more than capable of tearing off a big chunk.
The band's self-titled debut EP was steeped in surfer rock, but for this follow up Longreef has abandoned that sound in favor of a modern hard rock style that slots between Buckcherry and Nickelback. You might detect an undercurrent of classic rock, but it is most definitely—and very assuredly—filtered through modern rock aesthetics. Whether Longreef are simply experimenting with different genre variations before cutting a full length album or chasing after popular music trends is up to the individual listener to judge, but regardless of the reasons behind this EP's existence, it is a well-done offering within the modern hard rock parameters the band have embraced.
Limited to only five song with which to make an impression, Longreef wisely opt to display their versatility. Generally speaking, modern rock bands who have ascended have exhibited the ability to write high-energy rockers, radio-friendly power ballads, and mellower acoustic tracks. Longreef serves up all three on this EP and while they are better at some than others, they are at least savvy enough to prove they can fulfill Modern Rock 101 expectations. Actually, thanks to their musical chops and songwriting skills, these guys are at least at the 201 level, maybe even the 301, and with a full length album and the right promotional push, may even be ready to graduate to the big leagues.
The band puts forth their strongest track right at the beginning of the EP. No teasing, no foreplay—they just get right to the good stuff; "She Just Likes the Ladies" is catchy as hell with the kind of propulsive, body-moving hook that catapulted My Darkest Days up the charts. It combines infectiousness with amusing lyrics about a guy who can't get the girl he wants because…well, because she likes ladies. While snarling out his sorrow over this lesbian moment, the vocalist laments, "She just don't care / for the package I'm selling." Pretty sure the "package" he's referring to cannot be sent Federal Express. Yep, a little double entendre action going on right there.
The rest of the songs vary in quality. "Dirty Motel" is another catchy hard rocker exploding with verve and energy. "How Long" is the album's third full-throttle sonic assault and while it hits hard, it lacks the sharp hooks of its predecessors, falling somewhere between "solid" and "filler." What is way beyond solid and certainly not filler is the band's big ballad "Want Me Back," which is a skillfully crafted radio-ready single with a big chorus and the kind of lost love lyrics that never go out of vogue. The cherry on top of this sweet balladic sundae is the stellar guitar solo toward the end. Wrapping things up is "Sweet Emotion," an acoustic number that is not a remake of the Aerosmith classic and really lets Barker's vocals carry the song in an admirable fashion, but unfortunately the song just isn't that good. Still, for a five-track EP, three great songs, one solid, and one throwaway isn't a bad ratio.
Bottom line, Longreef bring the post-grunge, dirty guitar sound the modern hard rock masses adore and those masses should find plenty to appreciate on Dirty Motel, which does exactly what an EP is supposed to do—leave you begging for more. If these Aussies stick to this style when they release a full-length album, they might just crush the modern hard rock competition like cockroaches.
Genre: Modern Hard Rock
Band:
Josh Barker (vocals)
Nick Miller (guitars)
Aaron Carruthers (drums)
Jim Wark (bass)
Track Listing
1. She Likes the Ladies
2. Dirty Motel
3. How Long
4. Want Me Back
5. Sweet Emotion
Label: Independent
Webpage: www.longreefmusic.com
Hardrock Haven rating: 8/10