by Mark Allen
– Senior Columnist —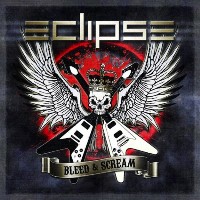 Riding a tsunami of hype comes Bleed & Scream, the latest release from Swedish melodic rockers Eclipse. Visit music forums and read early reviews and you will find both customers and critics stumbling over themselves to heap praise on this album and thumbing through thesauruses to glean as many synonyms for "awesome" as they can. Bleed & Scream has been called perfect, classic, and genre-defining. The time has come for some rebel soul to jump off the bandwagon, cut through the crap, and stop running with the lemmings to kiss the band's collective hindquarters.
Yeah, well, someone else will have to do it, because this album deserves a sizable chunk of the adoration with which it is being crowned. Yes, it's a little over-hyped; the album is not perfect and certainly not the greatest melodic rock release of the last decade. But it is good. Very good. Hell, the superlative "damn good" may even be in order here.
Bleed & Scream strives for perfection. Every aspect, every facet, has been carefully crafted to deliver maximum melodic hard rock impact. The guitars are intense, the vocals are stellar, and the production could not sound better if God's own fingers had twiddled the knobs. The band gave it their all on this one, delivering a tour-de-force, pouring every last drop of blood, sweat, and tears into serving up a killer album. They went gunning for a bulls-eye and even those who think they missed the 10-ring will readily agree that they missed it by not much more than a gnat's nut-hair.
Sound wise, you can draw any number of mix-and-match comparisons. The overall sound of the guitar domination brings to mind Steelhouse Lane. Some of the more metallic riffs recall the heavy-edged melodies of Pretty Maids. When the AOR hooks hit the sweet spot, they are reminiscent of W.E.T. And the slick, polished, multi-layered, wall-of-sound engineering begs comparisons to last year's acclaimed Toby Hitchcock album Mercury's Down. In fact, to give someone a good gist of what Bleed & Scream sounds like, you could tell them it sounds like a harder version of that Hitchcock offering. The melodic sensibilities and hooky songs are similar; Eclipse just give them an edgier, more aggressive guitar punch.
"Wake Me Up" is a great opener, showcasing the massive thunder of the drums and letting it be known that this is not going to be a low-key affair. The chorus is on the simplistic side—a trait common to a few songs and one of the reasons the album doesn't merit a perfect score—but the excellent musicianship, amazing vocals, and monster production offer satisfactory compensation. "Falling Down" should have fans reaching for the Repeat button, straddling the fuzzy line between rock and metal. The guitars slam out sizzling riffs that lead directly to a face-hammering chorus packed with delicious harmonies. But nothing compares to the beauty of "The Unspoken Heroes," which may just be the best melodic hard rock song of the year, a soaring anthem with a smorgasbord of hooks to sate the hunger of anyone who considers catchiness to be top priority. It is, to put it succinctly, a nugget of sonic awesomeness.
Does Bleed & Scream eclipse all other melodic hard rock releases this year? Not quite, but the band have definitely bled their heart and soul all over this album and it shows. Even if it's not a masterpiece, it justifies your time and attention; after all, is there really anyone out there who would complain if they hoped to get $1 million and instead only received $999,000? Same principle applies here. Whether you rate it perfect, classic, or just damn good, this is one of the melodic rock highlights of 2012.
Genre: Melodic Hard Rock
Band:
Erik Martenssom (vocals, guitar, bass)
Magnus Henriksson (lead guitar)
Robban Back (drums)
Johan Berlin (synthesizers)
Track Listing:
1. Wake Me Up
2. Bleed and Scream
3. Ain't Dead Yet
4. Battlegrounds
5. A Bitter Taste
6. Falling Down
7. S.O.S.
8. Take Back the Fear
9. The Unspoken Heroes
10. About to Break
11. After the End of the World
Label: Frontiers Records
Webpage: http://www.eclipsemania.com/
Hardrock Haven rating: 9/10