Gothic Knights | Reflections From The Other Side
by Joe Mis
– Columnist —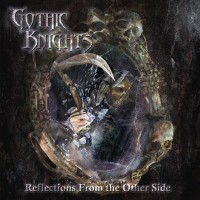 No matter how many times it is pronounced dead, the American Power Metal scene continues to defy and occasionally puts out a strong contender. From out of the Big Apple comes the newest release from Gothic Knights – and their Reflections From The Other Side proves that they can stand toe to toe with the best of their European counterparts.
Gothic Knights is not a worldwide name, but they've been playing epic power metal since 1990. Founded by guitarist John Tzantis – and anchored by bassist Mario Cosentino and singer Rick Sanchez, Gothic Knights went underground and survived the grunge era after releasing a demo (To Hell and Back – 1994) and two full length CDs (Gothic Knights in 1996 and Kingdom of the Knights in 1999). After a brief recording break, they put out their third CD Up From The Ashes in 2003. The band then retooled themselves by adding drummer Kevin DeDario, guitarist David "The 3rd" Seligman and keyboard man Jared Sloan. Finally after years of touring and festival gigs, Gothic Knights has just released its latest epic, Reflections From The Other Side. Melding pure power metal with hints of Gothic and progressive metal, this album is a winner.
The album immediately kicks off on a high with a very Judas Priest-Painkiller-inspired "Death From Above." Big guitars, Halford-esque vocals and an awesome rhythm line set the bar for the rest of the album very high. "Lord of the Underworld" continues the power attack, again featuring blistering guitars, massive bass and rapid-fire drums. Rick Sanchez utilizes his full vocal range – from a deep growl to a piercing but pitch-perfect falsetto scream and doesn't hit a sour note throughout. Well played keyboards and high range vocals make "Welcome To My Horror" a melodramatic and creepy nightmare, the one song that does truly display elements of the Gothic metal genre. The murky and moody tone continues through the rich Grim Reaper imagery of "Scythe Denied". This track features some of the strongest guitar work on the release – both lead and rhythm really rock! Interesting vocals and choppy hooks drive the Salem-inspired "1689, Trial of the Witch."
"Shadows of Time" has a bit of a Dream Theater sound and presents an interesting take on immortality – great drum work on this one, and Sanchez does an amazing job with his vocals. A mid-tempo rocker, "Devil's Playground" has a nice-old school feel to it, and the lyrics do a fine job describing the horrors of war. Great guitar hooks, squeals, and harmonics highlight Sanchez's powerful and smooth vocals on "Zero Hour," while "Writing on the Wall" brings on an Anthrax-like brutality. The nightmarish instrumental "Ave Satani" leads into the epic conclusion of "The Omen" – inspired by the classic film of the same name. This track is an "everything but the kitchen sink" piece, from odd tempo changes and double bass drumming to epic choral vocals and lyrics in Latin. If they every remake "The Omen", this will have to be on the soundtrack – Damien would be proud…
Reflections is well-performed and well-engineered, recording in their own studio so they could have full control of their sound. The instruments are nicely balanced and the vocals crisp and clear. Tzantis and Seligman make a fine guitar duo, playing off each other and delivering crushing riffs and solid solos. DeDario (drums) and Cosentino (bass) provide a driving bottom end and also make a great team. Sloan's keyboards are always appropriate to the track and never dominate, yet they are an essential and vital part of the music.
If you like your power metal dark, heavy, and intense then you won't want to miss Gothic Knight's Reflections From The Other Side. Varied old school influences are obvious (and well done), but the album manages to keep a freshness about it and never becomes a cliché or "sound-alike". Despite all the dark lyrics and images, the album is good fun and manages to steer away from being offensive in any way. Precise, pure, and very technical, the music of Gothic Knights will not disappoint even the most jaded power metal fans. American metal lives! Recommended!
Genre: Power Metal
Band:
John Tzantis (guitars)
Rick "Warlock" Sanchez (vocals)
Mario Cosentino (bass)
Kevin DeDario (drums)
David "The 3rd" Seligman (guitars)
Jared Sloan (keyboards)
Guest Performer: Melissa Sanchez (backing vocals on "The Omen")
Track Listing:
1. Death From Above
2. Lord of the Underworld
3. Welcome To My Horror
4. Scythe Denied
5. 1689, Trial of the Witch
6. Shadows of Time
7. Devil's Playground
8. Zero Hour
9. Writing on the Wall
10. Ave Satani
11. The Omen
Label: InnerSphere Music
Website: http://gothicknights.com/
Hardrock Haven rating: 8.5/10