by Pietro Foresti
– Columnist —
Tracii Guns is a guitarist that has influenced hard rock since the early '80s. Originally part of the first Guns 'n Roses lineup with Axl Rose, he left the band early to be replaced by Slash. He then re-joined the band he initially founded, LA Guns, and went on to sell over more than 10 millions albums. Guns has worked with several groups over the years including the Super Group Contraband with Michael Schenker, Richard Black (Shark Island), Share Pedersen (Vixen) and Bobby Blotzer (RATT). He also was with the band Brides of Destruction alongside Nikki Sixx (Motley Creu, Sixx A.M.) and London LeGrand.
Having completed his lastest world tour which ended with four gigs in Italy, Tracii hooked up with the Italian band J27 and producer Pietro Foresti. Guns and Foresti worked together and recorded his guitar playing on J27's song "America Dreaming." Taking the opportunity at hand, I sat down with Tracii for this intimate interview…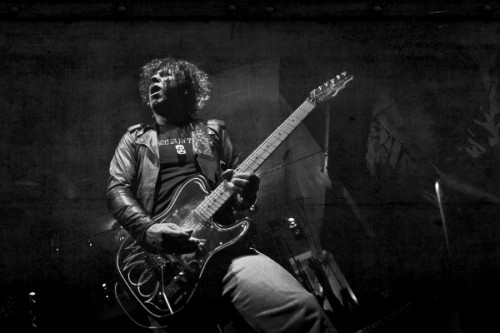 Hardrock Haven: Tracii, how many time have you been playing in Italy? Which was the one that you mainly remember and why?
Hardrock Haven: I have played 5 times in Italy Starting in the early 90s. The first time was with Skid Row. My Favorite show was last summer in Pisa outdoors with all my friends from J27 and Venrez Rocking the stage to about 1500 people… it was great!
Hardrock Haven: Which is you gear setup (equipment) in live gigs?
Tracii Guns: I use a mix of Vintage and modern equipment. My main amp is The Randall Nuno tube amp in which the clean channel sounds like an old plexi through some reissue greenbacks. The other head is a solid state DIME amp on the clean Channel which sounds like an overdriven Randall rg100 through 100w Eminence speakers So, two power sections with opposite natural tones. I use a pod xt for most of my FX except for my Delay which is an early 70s Maestro EP-3. I only Play Dean guitars live particularly my own guitar the Nashvegas.
Hardrock Haven: Which is your gear setup (equipment) in recording sessions?
Tracii Guns: Hmm. It is very vast, I don't like to reamp so it is important to get the right tone at the start of each song (on an album I prefer to track songs separate) so, the right amps and guitars are an experiment everytime. Most used amps are my Danelectro Dm-25 with a Wizard Speaker for bluesy songs. The randall and dime amps for more sustain etc. I generally don't print effects during tracking. Getting the right sound is essential from the beginning. I record guitars dark to tape or hardrive and eq later.
Hardrock Haven: Do you have any particular trick in live and/or in studio sessions?
Tracii Guns: YES!
Hardrock Haven: What is your live and studio favorite effect chains?
Tracii Guns: Guitar-wah-dist-mod-delay.
Hardrock Haven: What is your fundamental pedal?
Tracii Guns: Vox wah.
Hardrock Haven: How do you think that guitar technicality go modifying from eighties till now and how's going become?
Tracii Guns: The 80's really exploited the extreme side of technical playing to the point where its boring now and most listeners are wanting a very honest more soulful guitar in their ears. This happens to be better for me because I try less to impress these days and can be more natural.
Hardrock Haven: Can you suggest any particular technical exercise to improve the guitar technical abilities?
Tracii Guns: Learn every live, Page, Shenker,Hendrix solo,,,, you will be a great technician.
Hardrock Haven: In live sessions you have a great concentration together with the ability of adding free improvisation: how can you do that?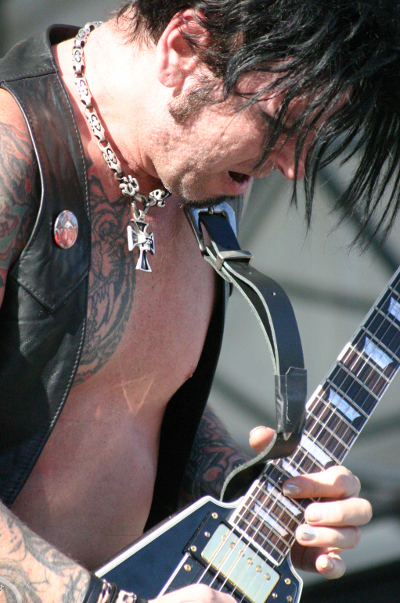 Tracii Guns: Improvisation is how i started playing music, Blues for minor keys and country for major keys. I learned that stuff very young because thats what my mama listened too and she played pedal steel. when I was a young teenager I discovered metal and combined the three elements to develop my style.
Hardrock Haven: What do you think that could be your "peculiar" character as guitarist?
Tracii Guns: The improvising live and the attention to background ambient guitars on tape.
Hardrock Haven: With J27 band you just recorded the song "America Dreaming." Are you satisfied with this work?
Tracii Guns: Of course I am. Pietro Foresti – the producer – has a fascination with vintage gear, old buildings and atmosphere so, in my opinion he is very classic and natural as a producer/engineer. And I predict will join the ranks of Glyn Jons and Eddie Kramer very quickly.
Hardrock Haven: Would you ever consider him as a producer maybe on a personal project of yours?
Tracii Guns: Of course, then I don't have to twiddle the knobs.
Hardrock Haven: How do you consider that the Italian production's approach differs from the American one?
Tracii Guns: Americans are in a hurry with everything lately, Italians seem to have alot more passion in the creative process although not always patient.
Hardrock Haven: You have recorded in a wonderful country house in the middle of Tuscany. Did you like this choice?
Tracii Guns: Aside from Steve Vai's Mothership studio I have no desire to sit in a sterile enviroment where I cant be myself and be told what to do. Mobile and Country recording is the only way for me and at my own studio which is perfect for me.
Hardrock Haven: You also have you own recording studio and you are a producer too. What are your favorite recording gear?
Tracii Guns: I like to hit Dynamic mics really hard going to tape. ANY TAPE IS BETTER THAN NO TAPE. I rarely use more than 2 mics on anything including drums. The room is the engineers best friend, 8-10 foot ceiling , carpet on the floor, nice reflective wood walls maybe a window or two. My rule is; "Never Make A Perfect Recording," imperfections are the character of art.
Hardrock Haven: Which are you projects right now and in the near future? (upcoming album, releases, tour, names, dates, references, etc)…
Tracii Guns: I am currently recording my new album for my new band The League Of Gentlemen. It will come out in September. Fabien Morterell is Filming a documentary of my musical career called the Guns Story.
Hardrock Haven: Which are your targets as guitarist and composer?
Tracii Guns: Learning is the key to my personal satisfaction, to get as close to the guitar as I can as an artist and of course to make recordings that are unconventional and will blow the speakers out of your car or to record such sweet sounds that you cry like a virgin on prom night.
Hardrock Haven: You sold in your career more than 10 millions copy. Which is the stimulation and the new challenge that makes you go on writing and playing, etc.
Tracii Guns: I have never had goals, I enjoy the surprise of the peaks and valleys of being an artist. The love of my family and close friends keeps me stimulated and my mind free of clutter.
Hardrock Haven: Is there any good young guitarist that you particularly like right now?
Tracii Guns: I like the new Guitarist in the Chili Peppers,, oh and that new kid Jimi Hendrix.