by Joe Mis
– Columnist —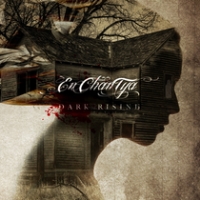 Dark Rising is the debut release from Portugal's EnChanTya. The band bills itself as Progressive Goth Metal, and that seems to be an apt term. Their music is definitely a blend of the two genres -plus a little death metal – and thanks to the powerhouse vocals of Rute Fevereiro they deliver a unique sound.
EnChanTya came together in 2004 when Rute Fevereiro decided to leave the all-female band Black Widow and move on to new projects. After a few demos, lineup changes, converts and good reviews, EnChanTya signed with Massacre Records to record their debut full length album. She is ably backed by orchestral drummer João P Monteiro, the excellent guitar duo of Nuno Seven and Emanuel Henriques, bassist Manuel Pinto and standout keyboard player Luis Fernandes. The band works well together, and handles the many trademark progressive elements cleanly and neatly.
Rute has an interesting and flexible voice – she does "beauty and the beast" vocals on her own, playing both parts. She has a clean voice that ranges from soft and clear to near operatic, and a death metal growl that can send chills down your spine. She uses the growl effectively, without overusing it or relying on it as a crutch. The songs are complex and loaded with tempo changes, varied moods and strong performances. At times Rute pushes just a little too hard at the high end of her range, but for the most part she is spot on. EnChanTya plays like a veteran act – and Dark Rising is a well-polished debut release.
There are numerous bright spots on the album, especially the fine intro and excellent musicianship on "No Stars In The Sky," a track that allows each member of the band a time in the spotlight. Heavy keyboards, crisp harmony vocals, and soaring guitars make "Night In Whisper" a strong and melodic track. "Clad In Black" features a great twangy bass line, a catchy rhythm line, and vocals that run from operatic to full on death growls – perhaps Rute's strongest vocal performance. The band is equally at home with more conventional tracks like the moody "Longing For You," the ballad-esque "Winter Dreams", and the galloping and upbeat "She Devil." The best guitar work on the albums is undoubtedly on "Ocean Drops" – a bouncy mid-tempo rocker filled with good hooks and great solos. The dynamic "Dark Rising" is the band's signature track – nothing is left out and everything just works – easily the strongest song on the release.
Overall, Dark Rising is a solid album. Nicely recorded and for the most part well-engineered, it delivers dark Gothic metal with a progressive twist – favoring the heavier elements of music rather than leaning towards the more "pop" influences that Goth seems to be favoring more and more. If you are into Goth metal or are a fan of "beauty and the beast" vocals EnChanTya will not disappoint. While not a major leap forward, this album is a tidy evolutionary step in the Goth genre, branching towards darker and heavier while adding complex prog metal tempos and harder elements. For a debut, it is excellent, and shows that EnChanTya and Rute Fevereiro will be forces to reckon with in the future.
EnChanTya's Dark Rising is available now on Massacre Records.
Genre: Progressive Goth Metal
Band:
Rute Fevereiro (vocals)
Nuno Seven (guitar)
Emanuel Henriques (guitar)
Manuel Pinto (bass)
João P Monteiro (drums)
Luis 'Vlad' Fernandes (keyboards)
Track Listing:
1. Unwavering Faith
2. No Stars In The Sky
3. Night In Whisper
4. Clad In Black
5. Longing For You
6. Your Tattoo
7. She Devil
8. Ocean Drops
9. Dark Rising
10. Winter Dreams
11. Fear Me When You Fall
12. Interlude / Become Of Me
13. Moonlighting The Dreamer
Label: Massacre Records
Website: http://www.enchantya.com/
Hardrock Haven rating: 7.5 / 10