Epidemic | Pandemic – The Demo Anthology
by Justin Gaines
– News Editor —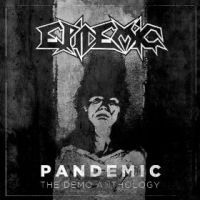 Hailing from Palo Alto, CA, Epidemic was one of the lesser known bands to emerge from the legendary Bay Area thrash scene in the late '80s. Epidemic released three albums over the course of their career, two on the Metal Blade label. As influential as the Bay Area scene was, there were a lot of "second tier" bands that remained that way for a reason – namely a lack of originality. That's one thing you can't accuse Epidemic of. Rather than simply aping the style of Exodus and Testament, Epidemic developed their own sound. Yes, the traditional thrash ideals were a big part of it, but they also brought in elements of both hardcore punk and the emerging death metal sound. They played very fast, had an incredible energy and nihilistic lyrical approach, and had harsh, but not completely growled vocals. Think Slayer meets early Death with a dose of Discharge.
Divebomb's 2012 collection Pandemic – The Demo Anthology collects Epidemic's three early demo releases – 1988's Immortal Minority, 1989's Demo '89 and 1991's Extremities '91 – in their entirety. All of the songs have been remastered by Jamie King at Basement Studios, and while you may hear the occasional glitch – which is understandable given the source material – the sound quality overall is as good as we've come to expect from both King and Divebomb. To top it off, the liner notes are loaded with lyrics, rare photos and tons of vintage flyers from the band's heyday. It's just a really well put-together release all around.
For longtime fans of Epidemic, a collection like Pandemic – The Demo Anthology is exactly what this band was missing. Not only is this a terrific collection of vintage crossover thrash metal that was previously only available on a series of cassettes, it's a great look at the beginning and early development of one of the more interesting bands in a very important metal scene. Thrash metal disciples, especially those who go beyond the big name bands, will not want to pass this collection by.
Genre: Thrash Metal
Band:
Mark Bodine (b)
Carl Fulli (v)
Guy Higbey (g)
Erik Moggridge (g)
Bobby Cochran (d, tracks 1-14)
Geoff Bruce (d, tracks 15-19)
Track Listing:
1. AMX
2. Live Your Death
3. In Fear We Kill
4. Thigh Rubbage
5. Three Witches
6. Finer Things in Life
7. Hands of Ruby
8. Silent Torture
9. Six Seconds
10. Circle of Fools
11. Tornado
12. Territories
13. Hate
14. D.C.S.
15. Peter's Gun
16. Immortal Minority
17. Fueling the Fire
18. Time Kills
19. 6 Seconds/Bored With Nothing To Do/Cows in Hell
Label: Divebomb
Hardrock Haven rating: 8.5/10