by Eric Nikolaev
– Guest Columnist —
October 10, 2012 at the Majestic Ventura Theater in Ventura, CA
Edge of Paradise live at the Majestic Ventura Theater was a great night for the band and its hungry metal fans. Edge Of Paradise is an upcoming heavy metal band with an industrial and symphonic edge. The band is fronted by the absolutely stunning Margarita Monet, who captivated the place the moment she stepped on that stage. Don't be fooled by her angelic personality and beauty, Monet's power and intensity will grab you by the neck and won't let go until your head is blown off by her unearthly vocal range, hitting the notes most singers would not dare to attempt.
Edge Of Paradise opened with their classic heavy metal songs "Thrown It All Away" and industrial-edged "Falling Down" from the album Mask. It was amazing to see that the band almost had a magnetic pull, and all eyes were set on Paradise.
Next, they did a fantastic tribute to Black Sabbath with "Children Of The Sea" and "Heaven And Hell." Monet's voice filled the space as though Ronnie James Dio, himself, was feeding her the power. She lived every word and every note of those songs. What a great way to pay tribute to the metal king!
The band finished off with gutsy "Tail Of The Gun" and "Walk The Line" as Monet announced "Love song, Edge Of Paradise style."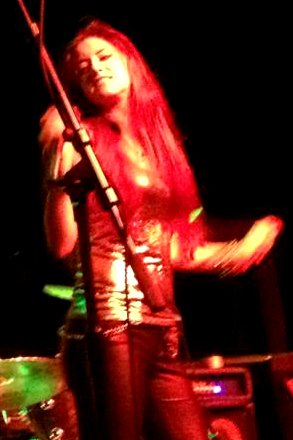 The band has a phenomenal front woman, but Dave Bates needs to be recognized. He is the epitome of sheer effortless virtuosity; this guy will make all guitar players either Idolize or hate him, as there are very few guitarists on this Earth that can shred like Bates. He has such precision, such feel, tasty licks, rips solos so that every note is meant to be exactly where it is. I honestly can say that I've seen the best of guitarists, and he is one of the very best, period.
Bassist Kurt Sheaffer and drummer Sivan Carmi were a solid rhythm section, keeping the groove.
The band can not only put on a show, but they are great songwriters as well. With their memorable hooks and huge choruses, listeners can hum their tunes long after hearing them play.
There is no doubt in my mind that Edge of Paradise is on their way to the big stages; they are bound to break through.