by Alissa Ordabai
– Senior Columnist —
October 12, 2012 at The Underworld Club, London, United Kingdom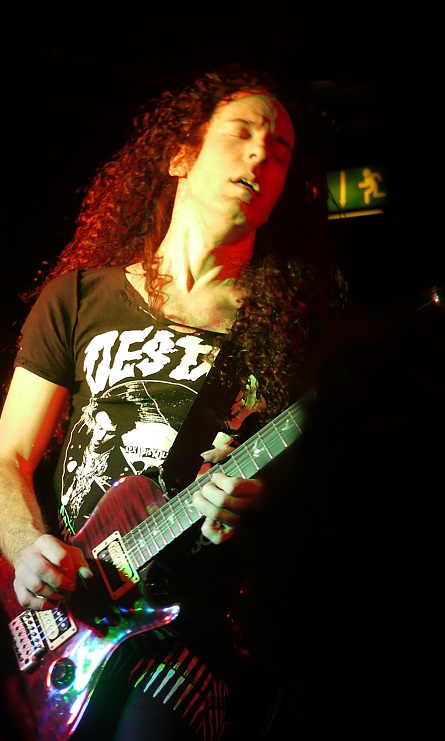 For many the choice this evening was between going to see Jimmy Page, Robert Plant, and John Paul Jones at the London premiere of Led Zeppelin's new film "Celebration Day" or seeing Marty Friedman play at the Underworld. For shred fans it was a no brainer, and as Friedman jokingly said to this writer after the show, the two options were "hearing Jimmy Page talk or me play." No need to say why the crowd which jam-packed the 500-capacity Underworld on the night chose what they chose.
But the audience was made up not only of Londoners, but also Swedes who travelled to see the show all the way from Stockholm, Italians, Poles, London-based Japanese, and even a married couple from Jordan. Friedman took two very different guitar players with him on this tour – French neo-classical shredder Stephan Forte who grew up on Friedman's material and calls himself his fan, and an Israeli guitarist Jossi Sassi who adds an elegant Middle Eastern touch to the rock formula.
Both highlighted the variety of styles on the instrumental guitar scene these days – Forte going all-out with his high tech solos and an exuberant, symphony-like approach to composition, and Sassi offering a more down-to-earth mix of soft- and prog-rock grounded with world music sensibility.
But it was Friedman's set which became the main barn-burner on the night. According to his Facebook post the next day, it was "even more fun than last year". When he played in London last time, it was with his Japanese backing band, so naturally the 2011 show leaned more towards Japanese-style material. Tonight it was an entirely different trip – twice as aggressive, at times utterly ferocious, bursting with volatile energy, but also remaining a clockwork-precise affair.
Which is astounding given that musicians who back Marty on this tour haven't been playing together for very long: the drummer has been brought from Japan, and the rhythm guitarist and the bass player have been borrowed by Marty from Sassi's band. But this line-up sounded so tight and the rhythms section so perfectly in synch with each other and the guitar that you wouldn't have known they've had little time to rehearse.
An exhilarating rollercoaster from the word go – from Friedman's early solo stuff, to Japan-era numbers, to Megadeth classics, his set connected with the crowd immediately. It was staggering to see Friedman – who is perhaps the lankiest guitar player in rock – to exude such roiling intensity. Hair flying, Pete Townsend-style propeller right hand, frenzied headbanging, and classic guitar hero moments when he would kick his head back and throw down a wailing solo, all this went to show that it's showmanship that turns talent into a luxury. And the ultimate in live music luxury was what the crowd was experiencing on the night, so organic was the synergy of Friedman's space-rocking tunes, virtuoso chops, and stage presence.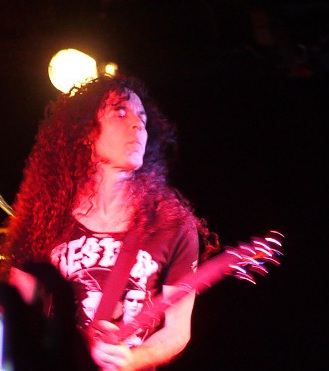 The packed venue cheered him on, chanted "MAR-TY, MAR-TY", and pumped their fists in the air as he was coming down with torrential showers of notes and machine gun metal riffs. But it wasn't just about his virtuosic rhythm playing, or flashy soloing technique. As always with Friedman, there were plenty of unusual East-meets-West scales, unexpected improvisational detours, and his trademark juxtaposition of pull-all-the-stops emotional abandon of and calculated precision of execution.
It was – of course – impossible to keep up with the neck-break pace Friedman unleashed from the very start, and after a while time came to give himself and the audience a breather with more melodic material. The contrasts between the intensity of the thrash numbers and more contemplative Japanese-style tunes is where it's at with Friedman these days and where his true personality of a cultural explorer comes forth.
It's when he plays metal, however, that the audience in London loves him the most, and "Tornado of Souls" became the biggest standout of the show. Other highlights included "Ballad of the Barbie Bandits" (written, according to Friedman, about two blond girls he saw on the news who have robbed a bank and made him think it was a cool story), and "Stigmata Addiction" – a fierce number with shred fireworks set over an exhilarating, hypnotic riff. Another special moment was the call-and-response exchange during "Dragon Mistress" between Friedman and guitarist Ben Azar during who is a formidable guitar force on his own right.
After a 90-minute pull-all-the-stops full stretch Friedman still found time to come out and speak to the fans. Backstage at the meet-and-greet the crew and musicians were the most diverse, most intriguing bunch this writer has ever seen – Americans, Japanese, Israelis, and Frenchmen, offering a glimpse into the inner workings of the cross-cultural environment Friedman created for himself these days.
And you suddenly began envying Marty Friedman – not for his superhuman ability as a musician and as a performer (which are pointless to envy), but him leading such a rich, varied life where he doesn't have to bow to the demands of the industry and does things on his own terms. His vision has worked perfectly to now allow him to do what he chooses to do, and to surround himself with fascinating, brilliant people, a vibrant mix of cultures, which makes his life so much more fulfilling than what corporate rock has to offer to the majority of his peers.
Set List:
1. Namida (Tears)
2. Bad D.N.A.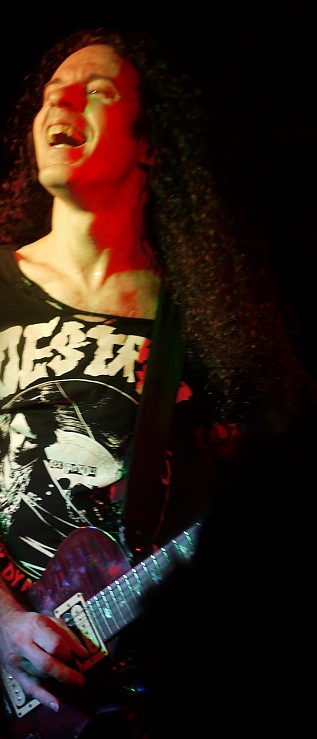 3. Gimme a Dose
4. Street Demon
5. It's the Unreal Thing
6. Amagigoe
7. Ballad of the Barbie Bandits
8. Tsume Tsume Tsume
9. Elixir
10. Stigmata Addiction
11. Asche zu Asche / My Oh My (Mutation Medley)
12. Forbidden City
13. Tornado of Souls
14. Devil Take Tomorrow
15. Ben Azar Guitar Solo
16. Novocaine Kiss
17. Angel
18. Salt in the Wound
19. Ripped
20. Yuki No Hana
21. Kaeritakunattayo
22. Dragon Mistress
23. Thunder March