LIVE! | Slash with Myles Kennedy and the Conspirators
by Alissa Ordabai
– Senior Columnist —
October 11, 2012 Brixton Academy, London, United Kingdom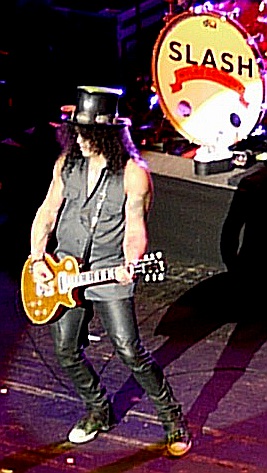 It's difficult to pinpoint what exactly made this show so special. One thing is for certain: this was undeniably the best – and the most puzzling – rock concert this writer went to in 2012 so far. Better than Black Sabbath, Robert Plant, or G3. You can certainly argue that Slash is in his prime, as opposed to the ailing patriarchs of English rock or the venerable upper league American shred vets. But this still doesn't explain the elevated feeling mixed with awe Slash left his London audience with last night. Perhaps this illustrates how sometimes you don't need the weight of history, displays of flashy virtuosity, or supreme originality to take your listeners outside of everyday reality.
Start analyzing what went on last night, and it all begins to fall apart: the songs were great, yet devoid of cosmic ambition. The musicianship was flawless, but without displays of high tech wizardry. Myles Kennedy's voice was in great shape, but not consistently impressive. The magic meanwhile hid in the grooves, in how the guitar swung with them and around them, in how the rhythm section took subtle liberties with the meter, and in the Slash's tone which always is a whopper, and even more so live.
Add to this the effortless, intuitive ease of his improvisation and there you have it. Plus don't forget that this outfit looks fantastic on stage, Todd Kerns being the star attraction when it comes to visuals. Yes, he's been working on all of his strutting stage moves, and his bass is hung lower than anyone else's bass or guitar on the rock scene today, but this doesn't obscure the fact that he a fiery vocalist (which transpired when he took over the mic for 3 songs mid-set) and one mean bass player – perhaps on par with Wolfie Van Halen who supports Slash on this tour as a member of Mark Tremonti's band.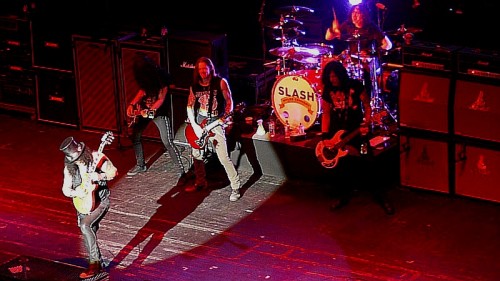 Speaking of Mark Tremonti's band, it did get a warm response from the crowd this evening with Van Halen's bass parts its chief redeeming feature. For those who were simply tolerating the band's formulaic songwriting and second-hand emotional sentiments, Van Halen's bass lines were the stuff to concentrate on – big, bold sound cutting through the mix, lots of earth-bound aplomb, and played with commendable imagination, partially making up for the void in the songwriting originality department.
But back to Slash, the best thing about the show was his varied approach to improvisation this evening. There wasn't as much soloing as on his live album Made in Stoke 24/7/11 released last year, but quantity is seldom synonymous to quality. The first stab he took at an expanded guitar impro was during "Rocket Queen", and it was a tasteful extrapolation, even though perhaps slightly labored, in the end failing to take off the ground. Improvised short solos during songs such "Anastasia" sounded more organic, swinging to the groove with almost understated light-footed elegance.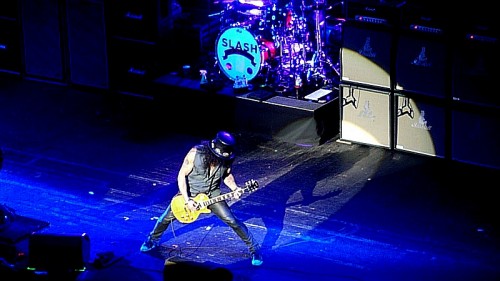 But before anyone could say that Slash wasn't up for a huge guitar display this evening, he suddenly came out with an extended solo blues piece straight after "Not for Me". And it was so breathtakingly beautiful, so profoundly reflective, you knew this was pure flight of inspiration – reaching into the territory first pioneered by Jeff Beck, but also conveying things so deeply personal no one would mistake it for anything else but Slash's own inner continuum. This is where the crowd got the taste of the true meaning of virtuosity – understood not as flashy chops or mind-bending theory tricks, but virtuosity as tapping into something intimate, yet eternal by conveying emotion to the most minute nuance.
On the ball, effortlessly classy, but at the same time not afraid to reach deeper than what rock as a genre expects of musicians these days, Slash is the most with-it torch-bearer of classic rock values. His relationship between heart and mind is always direct, never stylized, but at the same time he understands style so perfectly that this is where his personality shines at its best.
Set List:
1. Halo
2. Nightrain (Guns N'Roses song)
3. Ghost
4. Standing in the Sun
5. Back from Cali
6. Mr Brownstone (Guns N'Roses song)
7. Been There Lately (Slash's Snakepit song)
8. Rocket Queen (Guns N'Roses song)
9. No More Heroes
10. Bad Rain
11. We're All Gonna Die (Todd Kerns on lead vocals)
12. You're Crazy (Guns N'Roses song, Todd Kerns on lead vocals)
13. Doctor Alibi (Todd Kerns on lead vocals)
14. Not for Me
15. Blues Guitar Solo
16. Anastasia
17. You're a Lie
18. Sweet Child O'Mine (Guns N'Roses song)
19. Slither (Velvet Revolver song)
Encore:
Rise Today (Alter Bridge song with Mark Tremonti)
Paradise City (Guns N'Roses song)