LIVE! Europe in Nottingham
by Marija Brettle
– Columnist —
November 27, 2012 at Rock City in Nottingham, UK —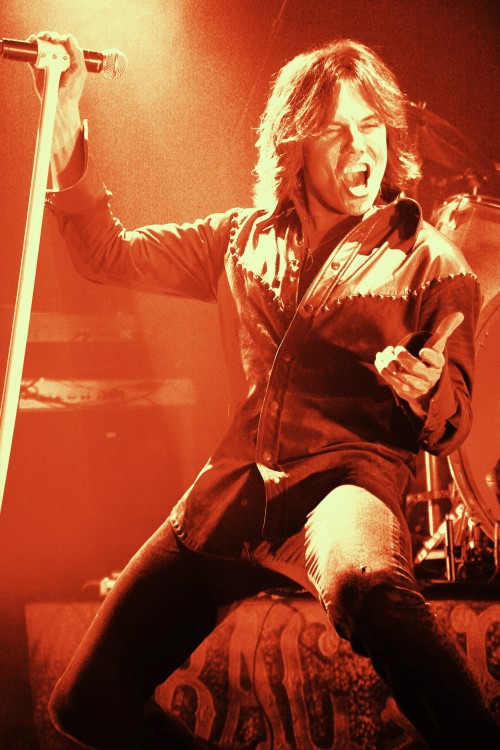 Eight o'clock sharp, the band enter the stage in a shroud of darkness. They erupt from the backing track into the rocking but soulful 'Riches To Rags' and 'Not Supposed To Sing The Blues' – songs from their current album Bag of Bones.
The crowd was very welcoming and very excitable, but didn't really get warmed up until the older and perhaps the more familiar opening lyrics of 'Superstitious' were sung. Lead singer Joey Tempest was in fine form and impressed the crowd with his banter and knowledge of local heroes (Lord Byron, DH Lawrence as well as the mighty Bruce Dickinson). Their set list was mainly made up of tracks from Bag of Bones and Last Look at Eden, which included the powerful 'Firebox' as well as the rather Dirgy 'New Love In Town.' The hi-points however were the excellent 'Scream Of Anger' and the acoustic 'Open Your Heart,' taken from the much earlier album, Wings of Tomorrow.
There was no doubt that Europe played an excellent gig, showcasing an enjoyable range of songs taken from their lengthy career. It just seemed that there was sometimes a lack of energy and enthusiasm from the crowd at times. This was through no fault of the band. It was just a portion of the audience that appeared to have come to relive the 80s and revisit 'that' album. So when 'Carrie' was played, the place went nuts.
There did appear to be a lack of older material and 'Cherokee' and 'Ready or Not' were sorely missed. Of course, the songs that most people were waiting for were kept until the end of the night. 'Rock the Night' ended the set with an extract of 'Run to the Hills' and 'Another One Bites the Dust' thrown in for good measure.
The countdown was then on. To rapturous applause, foot stomping and catcalling, Europe returned for the encore. It was then no surprise when their grand finale was with the one song that nobody will ever let them forget. 'The Final Countdown' rang supreme!
Once again, Swedish rock legends Europe have proved that they are definitely a band in the here and now. They have proved that they can still raise the roof and ' rock the night'!
[Photos appear courtesy of: Jadranka Jade]
Europe Concert Photo Gallery
no images were found