by Justin Gaines
– News Editor/ Senior Columnist —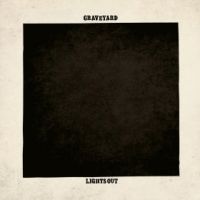 Swedish retro hard rock band Graveyard didn't waste any time getting their third album out. Lights Out is the band's second release in two years and second release since signing to Nuclear Blast. Graveyard's 2011 album Hisingen Blues was a major breakout, and their tours were very successful, so perhaps this is just a case of striking while the iron is hot. Whatever the case, Lights Out is a highly anticipated album not only for Graveyard's fans, but for just about anyone enjoying the recent revival of the old school heavy rock sound.
Behind a cover that looks like a pessimist's take on Uriah Heep's classic Look at Yourself cover, Lights Out finds Graveyard picking up more or less where they left off with Hisingen Blues. Graveyard still worships at the altar of the almighty riff, and they still sound like refugees from 1970. Across three albums now the band has channeled the vintage sound of Led Zeppelin, Black Sabbath and to a lesser extent Cream and Atomic Rooster. Lights Out feels darker overall though, and not just the cover artwork. The lyrics seem more cynical, the riffs are heavier and the overall tone tilts more towards Sabbath than Zeppelin this time around. The album swings from up-tempo rockers like "Seven Seven" and "Goliath" to slower, more somber numbers like "Slow Motion Countdown" and "Hard Times Lovin'" with ease, maintaining the same spooky, fuzzed-out vibe throughout.
Joakim Nilsson's unique vocals continue to be a highlight of Graveyard's sound, as do his and Jonatan La Rocca Ramm's guitar work. Paired with the steady rhythms of Axel Sjoberg and Rikard Edlund, and some well placed guest musicians on Hammond, piano, mellotron, saxophone and Norwegian fiddle and the whole thing comes together brilliantly.
Oddly enough (given the two bands' shared roots), Graveyard finds itself competing with Witchcraft for the year's best retro rock/metal release, and while Lights Out is a totally satisfying album all-around, it probably doesn't have quite the same impact as Witchcraft's Legend. It's a hell of an album though; make no mistake about that, and one that fans of the heavy rock-stoner-metal revival will not want to miss. And if any album released this year was meant to be heard on vinyl, it's Lights Out.
PS – Graveyard is touring North America in early 2013 (though not with Witchcraft as a lot of fans had hoped). Check them out if you have the chance.
Genre: Hard Rock
Band:
Joakim Nilsson (g) (v)
Jonatan La Rocca Ramm (g) (v)
Axel Sjoberg (d)
Rikard Edlund (b)
Track Listing:
1. An Industry of Murder
2. Slow Motion Countdown
3. Seven Seven
4. The Suits, the Law & the Uniforms
5. Endless Night
6. Hard Times Lovin'
7. Goliath
8. Fool In the End
9. 20/20 (Tunnel Vision)
Label: Nuclear Blast
Website: www.graveyardmusic.com
Hardrock Haven rating: 8.75/10