LIVE! | Don Dokken in Las Vegas
by Deb Rao
– Senior Columnist —
December 15, 2012 at Vamp'd in Las Vegas —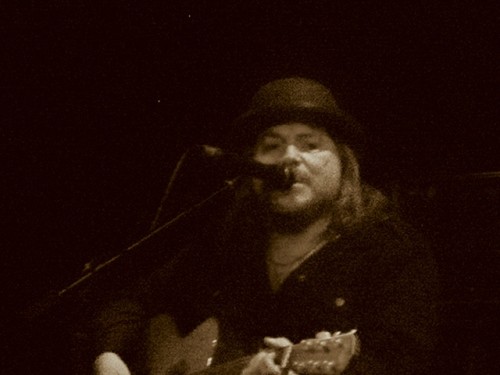 Dokken front man Don Dokken brought his annual acoustic West Coast trek to Las Vegas for a special performance at Vamp'd. The venue is one of the Valley's best with great acoustics and friendly ambiance,
Don Dokken hit the stage at 11:15 P.M. for a special hour-long set that included many of the Dokken hits opening with "Into The Fire." Dressed in black, Don sported a cute Bowler hat and John Lennon like sunglasses. Special guest was former Yngwie Malmsteen singer Mark Boals. Mark did a great job with the harmonies and acoustic guitar backing. It was great hearing the Dokken classics Stripped down. Don commented that it was hard to turn a rock song into an acoustic song. But he did it brilliantly.
Other highlights of the set included the rocking bluesy version of "It's Not Love" and the haunting sing along version of "Alone Again." What made this evening incredibly enjoyable was the entertaining story telling by Don. The Dokken front man unveiled a vast array of stories including his chance meeting with the late George Harrison. Anyone that knows Don is well aware that he is a huge Beatles fan. Tonight he also performed two Beatles hits including"Yesterday" and his special tribute to the Sandy Hook victims with song dedication of "Nowhere Man."
The stage had a coffeehouse ambiance including incense burning. There were no special pyrotechnics or blaring loud guitars. Tonight's performance focused on the songs stripped down to perfection with beautiful melodic vocals that launched these hits onto The Charts back in the day. Other highlights included the huge Dokken hit "Dream Warriors."
Special Thanks to Vamp'd for their hospitality. If you are ever in Vegas be sure to check out Vamp'd on Sahara. Bringing the best in '80s music in Las Vegas.
Set List:
Into The Fire
Breaking The Chains
Just Got Lucky
Yesterday
Nowhere Man
Alone Again
It's Not Love
Dream Warriors
In My Dreams