Texas Hippie Coalition | Peacemaker
by Mark Allen
– Senior Columnist —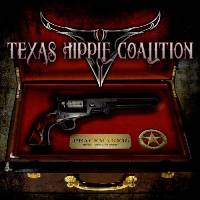 Texas Hippie Coalition refer to their loud, oversized, and utterly infectious brand of heavy rock as "red dirt metal," a tip of their Stetsons to the Red River Valley where they originated, but most hard rocking hell-raisers will probably just call it southern-fried groove metal, because that's what it is. If you borrowed some DNA from ZZ Top and Johnny Cash, cranked it up to eleven, and then spliced it with the powerhouse guitars of Pantera and Hellyeah, you might end up with something along the lines of THC.
Peacemaker is the band's third album and it does not stray far from the red dirt road they have traveled before. Once again you have headbanging guitar riffs flying at you like bullets from a Gatling gun, a rhythm section that knows how to put the smack down on your ears, drums that explode like cannon fire, and the gravelly, barrel-chested voice of Big Dad Ritch belting out the tunes with the kind of unapologetic badass attitude you can only find in Texas. It worked for the band in the past and it should work for them now, especially since this happens to be the best album of their career. The songwriting has improved and now incorporates some really strong hooks that stick with you like a steer horn to the crotch.
For fans of the southern-metal subgenre, this is prime stuff, because THC can really tear it up. When Big Dad Ritch bellows, "I'm an outlaw / on a long hard ride / Yeah, I'm an outlaw / Until the day I die," you may at first scoff and roll your eyes at the Bad Boy 101 lyrics, but as one rollicking rocker after another rolls from your speakers, you might just find the band making a believer out of you. They sound authentic, no small feat in a culture where so many "hard-ass" personas are carefully cultivated rather than genuine and pureblooded.
Sure, you could make a case that THC's relentless outlaw-loving lyrics are clichéd and about as subtle as a shotgun blast to the face, but that is in keeping with the genre. If you want to hear introspective navel-gazing about the meaning of life, go crawl into a closet with a stack of U2 records. Those of us who are just looking to have a hard rocking good time will be over here listening to THC roar about a preacher's daughter who starts stripping when she gets her first dose of Texas metal.
You may not start peeling off your clothes when you play these songs, but naked or not, there should at least be a smile on your face. Whether it's the full-auto riffing of "Damn You To Hell," the fist-pumping chorus of "Turn It Up," or the '80s-style rock ballad "Think of Me," the quality remains high from start to finish. Peacemaker has got big bulldog balls, plenty of crunchy clenched fist bombast, and more roughneck attitude than a rabid rattler.
Like a poker player who knows he has the winning hand, Texas Hippie Coalition have upped the ante with this album. The band was good before, but now they're even better. There's nothing novel here, but it's all delivered with heaps of hooks and unfettered ferocity and brings the southern-metal fun in spades. To paraphrase John Lennon, let's all give Peacemaker a chance.
Genre: Heavy Metal, Southern Metal, Hard Rock
Band:
Ritch (a.k.a. "Big Dad")—vocals
Crawfish—guitar
John Exall—bass
Ryan Bennett (a.k.a. "The Kid")—drums
Track Listing
1. Hands Up
2. Damn You To Hell
3. 8 Seconds
4. Outlaw
5. Turn It Up
6. Wicked
7. Don't Come Lookin'
8. Sex & Drugs & Rock and Roll
9. Paw Paw Hill
10. Peacemaker
11. Think Of Me
Label: Carved Records
Webpage: www.thcoutlaw.com
Hardrock Haven rating: 8/10