Naughty Whisper | Addicted to Decadence
by Mark Allen
– Senior Columnist —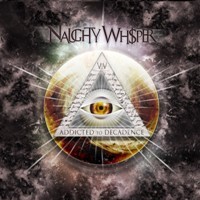 Hailing from the land of pizza and pasta, Naughty Whisper whip up a fairly tasty concoction of hard rock, metal, Goth, and sleaze that is topped off with impeccable modern production. It's not going to blow your mind or anything like that, but it's got enough of its own flavor to make it worth your time, because even a modicum of uniqueness is appreciated amidst the rampant derivativeness of today's hard rock.
If their name conjures up images of a cheesy mousse-and-spandex casserole, that is unfortunate, because while you can hear hints of hair-metal histrionics here and there, this is much heavier than your standard-issue glam-rock. Naughty Whisper might sound like the name of a band that should be opening for Pretty Boy Floyd, but they actually straddle the blurry line between hard rock and heavy metal. If your OCD insists that you assign it a name, call it heavy hard rock.
In addition to the heaviness, Naughty Whisper brings attitude, anger, and aggression. Singer Andy Starr has gritty spitfire vocals and he's not afraid to let the f-bombs fly. Whether or not he overdoes the profanity will depend entirely upon your personal tolerance for four-letter words. It's really not overbearing, especially for a band with some roots in the sleaze metal genre, but it's more than once or twice. Probably suitable for your typical hard rock fan…maybe not so suitable for a church youth group. Unless you want to be the most bad-ass church youth group on the block.
Naughty Whisper thrives on hard rocking heaviness and they are at their best when slamming it down full throttle. They also use synthesizers prominently—though not dominantly—to add extra dimension to their sound, spicing things up with some judicious goth and industrial edges to keep staleness at bay.
The musicians are all more than capable and the songs themselves offer relentless riffs and rhythms. Offsetting the brawny sonic punch is a superb sense of melody. "My Own Demise" is a prime example of how expertly Naughty Whisper pulls off this heavy yet melodic style, the guitar-bass-drum assault crushing your ears like a runaway locomotive while the chorus soars with slick harmonies and catchy hooks. This might be the song that does it best, but it's not the only one. The most interesting track is a cover of the Cutting Crew classic "(I Just Died) In Your Arms Tonight," which has been seriously beefed up with some heavy attitude. You might hear a better cover song this year…but it's just as likely you won't.
Naughty Whisper have a lot to offer hard rock fans, as long as you enjoy their stylistic mash-up and heavy-hitting dynamic. This is the band's third album (if you don't count their first demo) and they just keep getting better and better. Addicted to Decadence is a brand new chapter in the band's history and with its heavier approach and genre-busting defiance, it makes one hope that there are more chapters to come.
Genre: Hard Rock, Metal
Musicians:
Andy Star (vocals)
Ashly X (bass)
Lexxy J (drums)
Redox (guitar)
Track Listing
1. Addicted To Decadence
2. Welcome to My Nightmare
3. Damned Scratch
4. Into My Blood
5. My Own Demise
6. Eternal Demon
7. Poison White
8. From Lust Till Death
9. Everything's Not Lost
10. Venom In Me
11. Borderline
12. (I Just) Died In Your Arms Tonight
Label: SG Records
Webpage: www.naughtywhisper.com
Hardrock Haven rating: 8/10