Neo-Star Nova Z | Omega Factor
by Joe Mis
– Senior Columnist —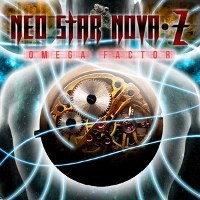 Neo-Star Nova Z is the colorful moniker of multi-instrumentalist Brian Waymire, and he's just released his latest CD entitled Omega Factor. Basically this is a five song EP, but Brian has added instrumental versions of some songs, plus a number of remixes and demos from an earlier release (Infinity Factor).
Waymire is a decent guitarist, laying down solid rhythm lines and catchy hooks. His soloing is very good, although at times he tries to do a bit too much and ends up overreaching just a little. He is a very good bassist with an effective sense of timing and mood, and his drum work supports both guitar and bass well. The same can be said for his keyboard work – generally quite effective without dominating.
"Into The Darkness" opens the album with a bang – this track is a mixture of electronica, progressive metal and shred. Solid rhythm lines support somewhat manic guitars and gritty vocals, and tempos vary from high speed to slow and ethereal. The instrumental version presented later actually highlights the complexity of his song structure and compositional skills. "Ethereal Path" is a sweeping modern progressive-style guitar anthem highlighted by a slick rhythm line and neat keyboards. Some dissonant notes in the solo and light keyboard textures give this a "spacey" feel. "Annihilation Come Forth" is a short atmospheric synth track filled with lush textures, while "Blackened Skies" has a bit of a symphonic / power metal feel to it – and a nicely done contrast between the intense rhythm line and slow lead keyboard. Waymire's growled vocals are very effective. "Future Sight" has an indie electro-pop tone and is a fun track that features very good keyboard work, but the vocals are a bit overdone. The instrumental version has an almost video game feel to it.
"Stranded In Orbit" is a solid instrumental with big hooky guitars – probably the strongest guitar track on the release, while the demo version is much more of a keyboard track with a darker tone. "Ashes of the Earth" is a very well done smooth rock track with interesting keys and a great bass line, while "Black Out The Light" and "The Descent" come across as almost industrial. "Dark World" is more of a standard prog-metal track with a darker tone. "Nova" and "The Sanctum That is Silence" are a bit dissonant and would make a decent video game soundtrack pieces, while "Leaving" is a keyboard-heavy progressive rocker. "Cosmic Journey" is also a bit video-gamey, but it has an interesting drum line and some solid keyboard work.
It was brave choice for an independent artist to add unreleased tracks and demo versions to a release, but in this case it proves effective. The "different" versions show the listener how a song can evolve, and how subtle changes in arrangement can totally change the feel and mood of a composition. The variety of tones and tempos show Waymire's chops well, but the variety also keeps the album from holding together as a cohesive project – it is more of a "collection" than a coordinated release. That being said, Neo-Star Nova Z rocks!
Neo-Star Nova Z's Omega Factor is a truly interesting release. Musician Brian Waymire has proven that he has a great deal of raw talent and tons of enthusiasm. A bit more polish and seasoning will bolster the few weak spots in his performance and composition skills and make him an artist to follow if you are a fan of the indie prog-metal scene.
Genre: Progressive Metal
Band:
Brian Waymire – all instruments and vocals
Track Listing:
1. Into the Darkness
2. Ethereal Path
3. Annihilation Come Forth
4. Blackened Skies
5. Future Sight
6. Into the Darkness (Instrumental Version)
7. Blackened Skies (Instrumental Version)
8. Future Sight (Instrumental Version)
9. Stranded In Orbit (Re-Mixed Instrumental Version)
10. Ashes of the Earth (Re-Mixed Instrumental Version)
11. Black Out The Light (Re-Mixed Instrumental Version)
12. Dark World (Re-Mixed Instrumental Version)
13. Stranded In Orbit (Demo)
14. The Descent (Demo)
15. Into the Darkness (Demo)
16. Nova (Demo)
17. Leaving (Demo)
18. The Sanctum That is Silence (Demo)
19. Cosmic Journey (Unreleased)
Label: Independent
Website: http://www.brianmichaelwaymire.com
Hardrock Haven rating: 7/10