Pink Cream 69 | Ceremonial
by Mark Allen
– Senior Columnist —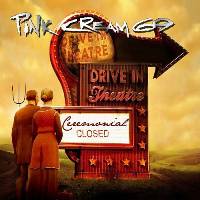 Pink Cream 69 is an undisputed member of the elite class of melodic hard rock, the kind of band that rarely disappoints. Yes, some releases are better than others, but that is to be expected over the course of eleven studio albums and the fact is that all of them are worth your time and attention. Between the rock-solid vocals of David Readman and the immaculate production of Dennis Ward, expecting a PC69 album to fail is almost as foolish as expecting the Pope to announce his conversion to Satanism at the next Easter Mass.
So how does Ceremonial stack up within the PC69 pantheon? Pretty damn good, actually. Not quite as good as Electrified or Sonic Dynamite, but slightly better than In10sity and Thunderdome. By now you know what to expect when you pick up a PC69 album and that's exactly what the band delivers. There's more diversity to their sound this time, the band doing a nice job of mixing things up between high-octane rockers, melodic mid-tempo anthems, and the occasional burst of metal heaviness, all of which ensure the songs don't blur into one another. PC69 know what fans want and serve it up in fine fashion with minimal deviation from ingrained expectations.
Of course, rock music is entirely subjective and how well you rank Ceremonial will depend entirely upon your personal proclivities, but there is simply no denying that this release features stellar musicianship, powering engineering, and some truly great hooks. The choruses really take off while the tight harmonies and sizzling guitar work together in tandem to make this one of the highlights of 2013.
Ceremonial is a less aggressive beast than many of the releases that came before, zeroing in on the melodic section of the hard rock bleachers, a minor adjustment that serves the band well; the overall vibe is just a little looser and more fun that some of their previous output. That's not to say PC69 have turned into a bunch of featherweights; "Big Machine" alone proves the band can still bring the heaviness, laying down a punishing groove that leads into a hard-fisted chorus that Readman delivers with an extra dose of attitude. But for the most part the band is content to focus on the melodic rather than the metal. That's neither a pro nor a con, simply a statement of fact. Do with it what thou will.
If the metallic tracks are scanter than venison in a vegan's freezer, the catchy melodic rock tunes are in abundance. "Wasted Years" is a blissful mid-tempo number delivered in that inimitable way that only an experienced band like P69 can pull off. Next up is the urgently hard rocking "Special" and it gets the job done…assuming that job is to get your body moving. "Right From Wrong" is a jaw-dropping demonstration of how to do melodic rock right, featuring an insanely catchy hook and a bouncy sing-along chorus that really sticks in your brain. If you are asked what the best track on this album is and you don't answer, "Right From Wrong," then you are… well, wrong.
PC69 could have just whipped together a few solid songs, had Readman phone in some professional but heart-lacking vocals, used Ward's glossy production to hide a multitude of sonic sins, and fans would have gobbled it up like a starving wolf chowing down on a crippled chicken. But being the consummate professionals they are, they refused to take the easy road. Instead, they actually crafted some damn fine melodic hard rock songs, coaxed a great vocal performance out of Readman, and used Ward's crunchy production as icing on the cake rather than a crutch. The result is another top-notch offering from Pink Cream 69 that most melodic hard rockers will enjoy as much as oral connoisseurs enjoy the position from which the band takes its name.
Genre: Melodic Hard Rock
Musicians:
David Readman (vocals)
Alfred Koffler (guitars)
Uwe Reitenauer (guitars)
Dennis Ward (bass)
Chris Schmidt (drums)
Track Listing
1. Land of Confusion
2. Wasted Years
3. Special
4. Find Your Soul
5. The Tide
6. Big Machine
7. Let the Thunder Roll
8. Right From Wrong
9. Passage of Time
10. I Came To Rock
11. King For One Day
12. Superman
Webpage: www.pinkcream69.com
Label: Frontiers Records
Hardrock Haven rating: 9/10