by Chris A.
– Senior Photojournalist —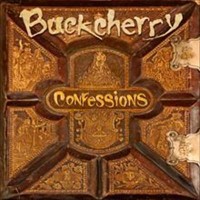 Buckcherry has been known as one of America's best rock 'n' roll bands since they re-emerged in 2006 with a new lineup and a strip club favorite called "Crazy Bitch." Since then, the band never looked back, and subsequent albums and tours showcased an ever tighter, more musically diverse group.
Flash forward to 2013, and the release of the band's newest disc, Confessions, and it's clear that Buckcherry has moved beyond only being a fun-loving, touring party band; Buckcherry is a legitimate music industry heavy-weight, writing great music and is capable of filling a stadiums. The proof is audible on the newest album, Confessions. Undeniably, the most mature and musical album recorded by the L.A.-based quintet, this record has the potential to vault the band to incredible heights. It's dynamic, musical, thoughtful and brilliantly presented.
A pseudo-concept album based upon The Seven Deadly Sins, Buckcherry's music always has extolled the fun-loving aspects of vice, and if anyone has been living the "sex and drugs and rock 'n' roll" lifestyle, it's these guys. Confessions takes Buckcherry's song writing and musical presentation to an entirely new level of sophistication. It's filled with expressive vocals and emotive guitar playing, crafted around the band's past and band members' personal introspection's to create a masterpiece of rock 'n' roll.
Here are a few gems from the disc:
"Dreamin' of You" is a beautiful, soulful acoustic ballad that gives Josh Todd a showcase for his vocal ability. He's a powerful, versatile singer who can blow the roof off a stadium or, as evidenced by the softer side of Confessions, can melt hearts and touch souls. Make sure to note the subtle country-inspired, vibrato-filled lead break that adds to the haunting feel of the song.
"Gluttony" is an attitude-filled rock n' roll song that's going to get stuck in your head. It's a tune filled with vice, temptation, lust, greed and all the other facets of life that makes us crave the sinful deliciousness of rock 'n' roll, with lyrics such as, "You say I drink too much, you say I fuck too much, so what the hell am I supposed to do?" With smokin' guitar licks and extremely raw lyrics, it's a prototype Buckcherry tune that will attract longtime fans.
The bluesy, soaring melody of "Sloth" mixes Todd's mournful vocals with big guitar chords and a dramatic orchestral arrangement to create a powerful song, articulating the pain and sorrow of those left behind after a person makes the choice to take their life. It's a very heavy song, with the lyric, "You know I still love you but I stand divided because I always hated your suicide."
While 2013 is still in its infancy, Confessions will be recognized as one of the best records of the year and should garner serious Grammy considerations. The band currently is embarking on a U.S. tour with Kid Rock in support of its new album. For more information on Buckcherry and to purchase your copy of Confessions, visit www.buckcherry.com.
Genre: Hard Rock
Band:
Josh Todd
Keith Nelson
Stevie D.
Jimmy "Two Fingers" Ashhurst
Xavier Muriel
Track Listing:
01. Gluttony
02. Wrath
03. Nothing Left But Tears
04. The Truth
05. Greed
06. Water
07. Seven Ways To Die
08. Air
09. Sloth
10. Pride
11. Envy
12. Lust
13. Dreamin' Of You
Label: Eleven Seven, Atlantic, DreamWorks
Web: www.buckcherry.com
Hardrock Haven rating: 8.5/10