by Joe Mis
– Senior Columnist —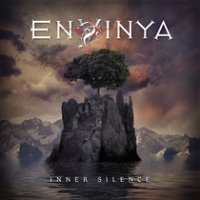 Inner Silence is the debut release from the Munich-based "female-fronted diversified metal band" Envinya. While that description tends to lead one to think of gothic style metal with a female vocalist and some growled male vocals, Envinya is that and more. There are some growls and lots of keyboards, but the band's music tends to lean more towards traditional melodic metal – although the lyrics drift more towards the darker side. One can hear touches of gothic, symphonic, and progressive metal in their music – and that keeps the album interesting.
Established in 2006, Envinya made it their mission to keep their music varied and diverse, not allowing themselves to be cast in to a single genre. They have succeeded, with the only overriding themes being "dark" and "melodic." They released a five track EP entitled Beyond The Dark to good press in 2010, and now the diverse and multi-influenced Inner Silence in 2013. The six-piece consists of vocalist Natalie Pereira dos Santos, guitarists Thomas Knauer (also does vocals) and Markus Herz, keyboard player Moni Strobl, bassist Lorenz Henger, and drummer Enrico Jung. There is no doubt that each is a talented musician, and the band's performance is tight and solid on all fronts.
"Faceless" opens the album, filled with lush keyboards before becoming an up-tempo, almost manic drum-driven rocker. "Forlorn" is a very heavy but melodic track with a great sweeping chorus and fine vocals by dos Santos. She proves that she can drop to lower registers and carry a lot of grit, and then sing clearly in the uppers while maintaining power. And better yet, she does not try to be operatic at all. "Inner Silence" sounds more like progressive metal with strong rhythm guitars, tempo changes, and rapid –fire bass drums. Unfortunately this song is burdened by unnecessary growled male vocals that do not add anything to the music, and in fact are extremely jarring and break the smooth tone of the track. "In My Hands" is another prog track with well-done guitars, keys and fine lead vocals, again with the death growls becoming a distracting element in what could be an epic track. Intricate guitar / keyboard riffs make "Swallow" an interesting technical track, and the lead break is impressive. The death growls are less intrusive here, and the band seems to be able to pull out all the stops making this one of the best tracks on the album.
"Satin And Silk" has a very old school metal feel to the opening guitar riffs, but becomes a more "modern" track as the band tried to do a "beauty and the beast" act which unfortunately falls a bit flat. Dos Santos has a very broad vocal range (and she displays most of it on this track), but Knauer's beast has a very narrow range and contrast is too great to be fully effective. Piano and soft vocals open "Mirror Soul," and fabulous multi-layered vocals make this the standout track of the release. It seems to blend progressive with symphonic and gothic, giving it a unique tone throughout and proving dos Santos to be a truly strong singer. "Too Late" allows the guitarists to show off a bit, and is a technically tight song with solid contributions from keys and bass as well. This is the one spot on the album where the vocal growls are used effectively, as the song itself seems to be study in musical contrasts and counterpoints. Intense drumming and solid rhythms are the highlights of "Beyond The Dark," and the up-tempo "Demoralized" allows bass and drums to shine.
Envinya's Inner Silence should appeal to fans of gothic and progressive metal, or those who like strong female vocals. While a decent album over all, this is a band talented enough to do a little more than merely following the current commercial trends. The growled/death vocals seem a bit forced and almost apologetic – like they're doing it because everyone else is, and not because it is a part of their creative thinking. Envinya has the raw talent to be a leader, and the band is at their best on the "non-trendy" tracks like "Forlorn" and "Mirror Soul." Hopefully as they grow they will stop following trends and begin starting them.
Genre: Gothic Metal
Band:
Natalie Pereira dos Santos (vocals)
Thomas Knauer (rhythm guitar, vocals)
Moni Strobl (keyboards)
Lorenz Henger (bass)
Enrico Jung (drums)
Markus Herz (lead guitar)
Track Listing:
1. Faceless
2. Forlorn
3. Inner Silence
4. In My Hands
5. Swallow
6. Satin And Silk
7. Mirror Soul
8. Too Late
9. Beyond The Dark
10. Demoralized
Label: Massacre Records
Website: http://www.envinya.de
Hardrock Haven rating: 7/10