by Ron Higgins
– Columnist —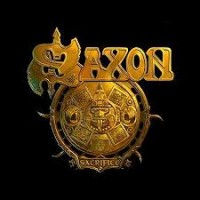 Warning! Listening to this album in its entirety may lead to severe neck injuries due to copious amounts of head banging. You have been warned.
Biff Byford and the Boys are Back! Thirty-four years after the release of their self-titled debut, Saxon is about to release its 20th studio album, Sacrifice. And tired, old, mellow or boring it is not. If anything, the band sounds tighter, stronger and heavier than ever. It has everything you'd want or expect in a Saxon release: Screaming guitars, thumping bass, pounding drums and Biff's unmistakable vocals. When Martians land on Earth and ask what heavy metal sounds like, just queue up this little gem and tell them, "THIS is what heavy metal sounds like!"
For anyone who has been living under a rock for the past four decades, Saxon was formed in the late '70s in South Yorkshire, U.K. Two bands, SOB and Coast, came together to create a puritanically named Son of a Bitch before renaming themselves Saxon. Saxon released its first album in 1979. Within the next two years, the band released three more timeless albums, including the classics Wheels of Steel and Denim and Leather. Fast forward a few decades, and Saxon still is cranking out awesome metal masterpieces. The band unleashed enough metal over the years to make all of the factories in Pittsburgh jealous. And just as impressive, both, Biff and guitarist Paul Quinn have been along for the ride the entire time. Bassist Nibbs Carter has been with the band since 1988, and drummer Nigel Glockler has been with the band off and on since 1981. Even the newest member, guitarist Doug Scarratt, has been with them for 17 years.
This latest musical onslaught starts off with an interesting 1:45 minute instrumental prelude, featuring tranquil jungle noises. Once the listener becomes entranced and starts thinking, "What in the heck is going on here?" they fire up the turbo boosters and kick into the title track, "Sacrifice." It grabs you by the jugular like a pasty-white teenage vampire looking for his latest meal. It has a hard-driving rhythm and definitely is a standout track on this stellar release.
The next song, "Made in Belfast," features a catchy chorus, thumping bass line and, surprisingly enough, a mandolin. It's an unusual, but welcomed twist. To keep the listener from becoming too complacent, the next track is a blazing fast race car tune called "Warriors of the Road." It has a heart-pounding rhythm with intense double-bass drumming and a blistering solo. It comes complete with sounds of cars whizzing by and sports commentators ala "Paradise by the Dashboard Light" but without all of the sexual innuendo. It's pedal-to-the-metal rock all the way. Next up is "Guardians of the Tomb." It starts out with some mellow oriental sounds, which give the listener a false sense that things are about to slow down. Not so. This song is about the First Emperor of China's terracotta warriors, yet it does have a nice, interesting tempo change midway through, but it's yet another slamming track.
At the midway point, a lot of bands start adding a few filler tracks, but that's definitely not the case here. The sixth track is an excellent song called "Stand Up and Fight," which starts with a tasty little guitar solo. It has a driving rhythm and a rebellious attitude that would make a perfect theme song for any sports team, including competitive synchronized swimming and curling team. Walking the Steel" is a mid-tempo number that has a major tempo change in the middle with a really cool lead guitar solo. Lyrically, it's extremely poignant and uplifting, describing the skyscraper construction in New York City to honor the fallen Twin Towers. Biff sings, "remember the heroes, remember them all," as well as, "born again, the twins will stand, hope will never die." Amen, Brother Biff. Amen.
Track eight is a moody tune called "Night of the Wolf." It would make an excellent soundtrack to a cute pet movie, something like Cujo or The Howling. And just to add an interesting element to the song, it ends with some nice acoustic guitar plucking and monk-like chanting. Next up is "Wheels of Terror," which obviously evokes memories of their early classic "Wheels of Steal." Like that earlier song, this one is another winner with a cool, driving rhythm and brutal lyrics. It's another highlight on this impressive disc. It harkens to Sabbath's "War Pigs," describing a fighting force and its "battle tanks of war".
Finally, this 10-song tour de force wraps up with another great song, "Standing in a Queue." It has a really cool, AC/DC vibe to it and somewhat humorously conveys the universally despised experience of waiting in long lines. Yes, Saxon somehow manages to make a cool metal song about long lines. And remaining faithful to the rebellious rock and roll spirit, they sing, "Let's raise our voices high and stick it to the man!"
Although this release only features 10 songs, it's better to have 10 cohesive tracks that are all impressive and faithful to the spirit of the band than to have 18 disjointed songs that fill up space and do nothing to enhance the concept and feel of the album. Saxon lovers always are going to want to get as much music as they can, but you'd be hard pressed to find any true Saxon fans who have any significant complaints about this fine release. For those purchasing the deluxe digibook edition or the Direct to Consumer fan package, they also will get an interesting five-track bonus disc, featuring re-workings of classic tunes. There's an orchestrated version of "Crusader," acoustic versions of "Requiem" and "Frozen Rainbow" and re-worked versions of "Just Let Me Rock" and "Forever Free." These are nicely done and welcomed additions to any Saxon fan's music library.
Overall, this is a very good album and one that definitely lives up to high expectations. Along with great songs, the production is impeccable. Definitely listen to this one with some nice headphones and not some dinky little ear buds. Or better yet, crank it up on a massive sound system, the kind that will get the cops to show up and shut up your neighbor's annoying dog. Whether you're an indoctrinated long-time fan of the band or just discovering them for the first time, you definitely will be pleased with this aural assault on your senses. Another New Wave of British Heavy Metal has begun!
Genre: Heavy Metal
Band:
Biff Byford
Paul Quinn
Doug Scarratt
Nibbs Carter
Nigel Glockler
Track Listing:
1. Procession
2. Sacrifice
3. Made In Belfast
4. Warriors Of The Road
5. Guardians Of The Tomb
6. Stand Up And Fight
7. Walking The Steel
8. Night Of The Wolf
9. Wheels Of Terror
10. Standing In A Queue
Release dates:
EU: February 22nd, 2013
UK: February 25th, 2013
US: February 26th, 2013
Label: UDR
Website(s): http://www.saxon747.com/
Hardrock Haven Rating: 9.5/10