by Mark Allen
– Senior Columnist —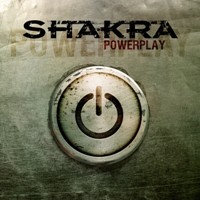 Are you looking for something to shake your speakers and rattle the windows? This latest album from melodic hard rockers Shakra has you covered. While the band may have better entries in its lengthy discography, this one is still pretty good and doesn't stray from Shakra's entrenched formula of beefy guitar lines, banging riffs and big hooks. Band members have come and gone over the years, but the Shakra sound has remained relatively steady.
On Powerplay, the band's ninth album, that steady sound still can be described as Bonfire with bigger balls. The band has that European melodic hard rock sound down pat, but the guitars sport a heavier edge than most bands in the genre. It's what the band always has done, and band members apparently subscribe to the "if it ain't broke, don't fix it" adage, because they certainly don't switch things up this time around. Whether that's a pro or a con is up to individual listeners to decide, but it's safe to say that if you enjoyed Shakra in the past, you'll probably enjoy this album, too. If you always thought listening to Shakra was the musical equivalent of having syphilitic donkey dung forcibly pumped into your auditory canal, then this album won't change your mind.
There is nothing to complain about from a technical perspective. John Prakesh has a solid set of pipes, and he puts them to fine use here, though he is more suited to rockers than ballads. The guitars really let the riffs rip, while the rhythm section provides a formidable backbone on which to hang the band's heavy yet melodic sound. The production is non-intrusive and engineered for maximum impact, while nimbly avoiding overdosing on studio gloss.
The problem that has plagued Shakra in the past and continues to plague the band here is the ratio of solid songs to great ones. Every Shakra album has featured a couple of killer tunes, but rarely, if ever, has the band released an album that is killer from start to finish. Shakra hasn't done so here either. There are several good songs, a few great ones, some filler tracks and a couple of tunes that will give the "Skip" button a good workout.
But when the band gets it right, it's good enough to give your cochlea a climax. For example, "Higher" is a monstrous hard rock anthem, with hooks high enough to ring Heaven's doorbell and a backing vocal-powered chorus that really soars. "Wonderful Life" is, well, wonderful; the kind of emotional power ballad that Shakra has proven adept at in the past. And then there is "Save You From Yourself," which is so damn good that even fans who are hating on the rest of the album are saying this is one of the best songs the band has ever released, thanks to a huge chorus and thick harmonies. It is the highlight of the album, by far, and the kind of track that makes you realize how good Shakra truly can be.
So yeah, a few more gems of that caliber would have improved Powerplay, but the quality is consistently good, and sometimes good is good enough. It's not the kind of album that's going to blaze its way onto many Top 10 lists at the end of the year, but it's not going to be a bottom feeder either. Shakra has always delivered solid, crunchy melodic hard rock and has done so once again.
Genre: Melodic Hard Rock
Band:
John Prakesh (vocals)
Thom Blunier (guitars)
Thomas Muster (guitars)
Dominik Pfister (bass)
Roger Tanner (drums)
Track Listing:
1. Life Is Now
2. The Mask
3. Higher
4. Wonderful Life
5. Dear Enemy
6. Save You From Yourself
7. Don't Keep Me Hanging
8. Dream of Mankind
9. Stevie
10. Because of You
11. Secret Hideaway
12. Too Good To Be True
Webpage: www.shakra.ch
Label: AFM Records
Hardrock Haven rating: 8/10