Tom Kopyto | Resurrection
by John Kindred
– Publisher —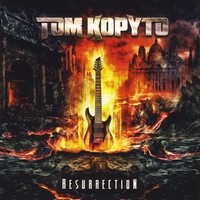 Shredguy Records' latest release comes from instrumental shredder Tom Kopyto, whose first studio album, YTK, was released in 2000 and featured Michael Angelo Batio as executive producer. Kopyto has appeared on three compilation albums since then; Lion Music's Tribute to Shawn Lane Vol. 2 and Shredguy Records' Shredding Across the World Vol.1 and Shredding Across the World Vol.2. Over the course of the last decade, he dedicated a large portion to being a guitar instructor.
Thirteen years seems like a long time between studio albums, and Kopyto makes up for lost time and delivers eight tracks of pure shred on Resurrection. Alongside bassist Andy Deluca (Symphony X, Michael Angelo Batio, James LaBrie's Mullmuzzer) and drummer Matt Garstka (Animals as Leaders), Kopyto unleashes a furious assault on your auditory senses. The album features special guests who lend their own personal shredding talents to Resurrection, including include Mark Zonder (Fates Warning) and Jason Bittner (Shadows Fall, Marty Friedman) on drums and guitarists Mike Abdow (Last Chance to Reason, Solo Artist) and Oli Herbert (All That Remains).
Resurrection combines elements from several genres, including heavy metal, Neo-classical metal, hard rock and progressive. Kopyto uses heavy distorted rhythmic progressions that shift from complicated riffs to simpler rhythms, as the backdrop to for his soloing. Kopyto's lead work places emphasis on melodic phrasing that takes the place where the vocal melody would be and moves into more aggressive, speedy passages that showcase his skills. His mastery of the fretboard is on display whether delivering blistering solos or melodic soulful runs.
A lot of interesting musical thoughts are unveiled on Resurrection. It's nice to hear Kopyto allow the drums to be "metal" drums and not just play the typical hard rock 4/4-bass-drum- snare-drum patterns, which are found as the sound bed on many well-known instrumental guitar players' albums. Plenty of double bass patterns help drive the music forward, keeping the energy from waning and making the songs monotonous and lifeless.
Kopyto is a master of his craft. It is surprising he is not in a "known" band, with more albums under his belt. While not a household name, Kopyto is more than matches up to his peers. Resurrection certainly highlights a talented guitarist, songwriter and arranger, and, hopefully, we will hear more from Kopyto in the future.
Genre: Instrumental Shred, Hard Rock, Metal
Band:
Tom Kopyto (g)
Andy Deluca (b)
Matt Garstka (d)
Guests:
Mark Zonder (d)
Jason Bittner (d)
Mike Abdow (g)
Oli Herbert (g)
Track Listing:
1. Black Inside
2. No
3. Into Another
4. Naked In Death
5. Spine
6. Let Them Fall
7. We, Together
8. Resurrection
Label: Shredguy Records
Web: http://www.lordtommy.com/
Hardrock Haven rating: 8/10