by Nikiforos Skoumas
– Columnist —
Releasing a first class AOR album each year is nothing to be taken lightly, and that is exactly what guitarist Andy Rock and Wild Rose have been up to for the past three years. We contacted Andy Rock to find out first hand what is the drive behind Wild Rose, their latest developments and why you can't stop them from bringing back '80s oriented rock.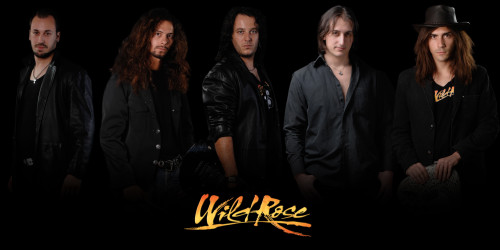 Hardrock Haven: The new album Dangerous comes under a new line up. What can you tell us about the current synthesis of Wild Rose and their input on the new material?
Andy: Two new members joined the band and some fresh air flowed in … Tiny is a great guitarist who wanted to be a part of the band for a long time; he is an original AOR guy with a lot of passion and of course we also have the lead vocals of David Saylor that gave a different scent to our songs!
Hardrock Haven: How has Dangerous performed market-wise in comparison to your previous two albums?
Andy: As a matter of fact, there is only one previous album, the Half Past Midnight, CD which is also our debut. Anything else from Wild Rose would be just promo or demo. The one you might be referring to – Into the Night – is an Andy Rock solo album. Overall it's a bit early to talk about the market's reaction to the album, since it's not even a month out there, but there is far better distribution this time around by AOR Heaven so I believe it will reach the ears of many AOR-sters.
Hardrock Haven: What was the reason behind the departure of lead singer George Bitzios and guitarist John Bitzios following the release of your debut album Half Past Midnight?
Andy: We had a lot of problems with them from the very beginning that cost us a lot of time and demanded a lot of patience … I wouldn't want to say more …
Hardrock Haven: Shortly after Bitzios' departure your management announced Mark Thompson Smith as the new front man of Wild Rose; instead David A. Saylor filled the position, what happened there?
Andy: Yes, as I said before one of the main problems that we had with previous singers was that they were coming and going all the time … When Mark joined the band the previous guitarist had issues with him and told us that George would come back if Mark was to leave the band. Well, that was a mistake from our side- taking steps backwards- because that was the reason Dangerous was delayed this much and the problems continued with them! George Bitzios had in fact recorded lead vocals for "Dangerous" but after an argument with us they told us to erase all the vocals under the threat of leaving again … Well, that was their last shot … I've searched the universe to find a good singer and I found David and thank God everything went well!
Hardrock Haven: Just to geek out for a minute with you … Why is David A. Saylor not pictured in the booklet of Dangerous?
Andy: David is a guest vocalist to Wild Rose; he is not our main vocalist. We've talked about it and we asked him to join us as a full-time member but he responded that he wanted to work on a session-basis with us! That's pretty much the reason he isn't in the band picture.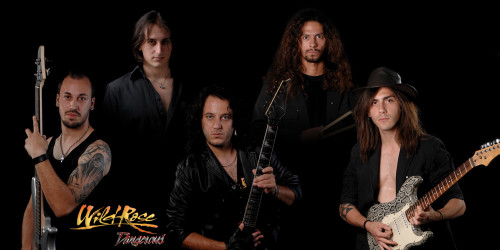 Hardrock Haven: Somewhere between the two Wild Rose studio albums you put out your debut solo album, marking your first release under AOR Heaven Records. How did that come about and should we expect more of Andy's solo works in the future?
Andy: I had a few songs in the closet and some of my friends telling me to make a personal album with myself on lead vocals. We sent it to AOR Heaven and we got a deal! I don't know if I'll be making a second solo album … It's too early to say but we will see in the future!
Hardrock Haven: How would you describe the band's relationship with your current label AOR Heaven and why did you leave your previous record company Retrospect Records?
Andy: Retrospect Records is a very good label with a guy (Sam McCaslin) who gives his soul for this music but if you are looking for greater things you have to reach further and AOR Heaven is what a band of our kind needs!
Hardrock Haven: How do you manage to put out a new album either as Wild Rose or Andy Rock each year and still maintain the level of quality that AOR as a genre requires?
Andy: I don't think there is a clear answer to that. Maybe it's just our love for music, or perhaps a very inspiring period in one's life.
Hardrock Haven: Do any of the members of Wild Rose have any side-projects in the making and will you keep putting out a new release each year?
Andy: Inspiration for songwriting is not something that comes about every day. I don't know if that will continue in the future, but if we get inspired to write more songs, I would certainly want to keep it that way. As for the other Wild Rose members, they are not into any other projects or solo albums … yet!
Hardrock Haven: Are there any plans for domestic or international live dates (with regards to the US in particular)?
Andy: We've had some proposals for shows, even in the states, but since we don't have a main vocalist in the band, we can't really do it. I don't want to disappoint anyone, but I can't see it happening. I hope things change quickly and we get back on stage.
Find WIld Rose online @ https://www.facebook.com/wildroseaorevo