by John Kindred
– Publisher —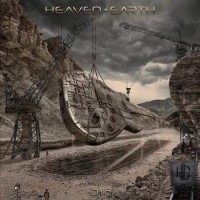 It's been a minute since the last Heaven & Earth release. The band has been piloted by Stuart Smith since the '90s. And since 1998, Heaven & Earth has released two full-length albums; Stuart Smith's Heaven & Earth 1998 and Windows to the World 2001, one EP A Taste of Heaven 2006 and the DVD Making of Heaven & Earth 2007. Smith then joined Steve Priest's Sweet in 2009 and headed out on the road and appeared on Sweet's Live! In America that same year. Sticking it out with Sweet until it became apparent the band was not going to record and release new music, Smith tendered his resignation in 2012. With his focus back on Heaven & Earth, Smith set out to recruit band members and write music.
His new writing partner turns out to be former Sweet vocalist Joe Retta, who, like Smith, was dissatisfied with no foreseen opportunity to release new music with Sweet. The rest of the band is rounded out by bassist Chuck Wright (Quiet Riot), Smith's longtime friend and music partner drummer Richie Onori and keyboardist Arlan Schierbaum. With all the pieces to the puzzle now glued together, the band began writing and recording new music and now unveils to the world the new Heaven & Earth album titled Dig.
Dig musically fits into the classic rock genre, while maintaining a modern edge due to today's production standards. Over the years, Smith has built friendships with rock's most notable and respected musicians. So, it is no surprise that special guests on Dig include Howard Leese (Heart, Paul Rodgers), David Paich (Toto) and Richie Sambora (Bon Jovi). The digipack release of Dig features a 12-track CD and a DVD that is the EPK for the album's release.
Fans of Stuart Smith's Heaven & Earth won't be disappointed with the new album. Smith's tasteful chops and creative rhythms find their rightful place alongside Retta's vocals. Retta has an interesting voice. He sounds a little like Paul Rodgers (Bad Company, Queen), and yet you can hear a little bit of Kansas' Steve Walsh. No, he is not a clone, but his voice definitely will appeal to classic rock fans. Dig truly is a "band" album. The mix, with guitars audible, focuses on presenting all instruments on an equal level and provides the framework for Retta to lay down his vocals.
By now, we all know the part that rock legend Ritchie Blackmore played in Smith's life, from friend to mentor. Heaven & Earth lives upon the back of keyboardist Arlan Schierbaum, whose heavy organ melodies instantly will recall Jon Lord of Deep Purple. While this is not a copycat Deep Purple band, the keys also lend themselves to the classic sounds of '70s rock. The music on Dig is bold, deliberate and powerful. Plenty of choice cuts make up the CD. From melodic rockers like "No Money, No Love," the opener "Victorious," to power ballad's "I Don't Know What Love Is" and "A Day Like Today," plenty of quality rock 'n' roll songs are waiting to be discovered.
Smith fans will be glad to have new original music in their hands. The latest incarnation of Heaven & Earth goes beyond expectations. Dig is a strong addition to Heaven & Earth's catalog of music. And for those who haven't heard the band's previous albums, they really must. A Taste of Heaven featured Paul Shortino on vocals; Windows to the World featured Kelly Keeling on vocals, and the debut featured Glenn Hughes, Kelly Hansen and Joe Lynn Turner on vocals.
Genre: Classic Rock, Hard Rock
Band:
Stuart Smith (g)
Joe Retta (v)
Chuck Wright (b)
Richie Onori (d)
Arlan Schierbaum (k)
Track Listing:
1. Victorious
2. No Money, No Love
3. I Don't Know What Love Is
4. Man & Machine
5. House of Blues
6. Back in Anger
7. Waiting for the End of The World
8. Sexual Insanity
9. Rock & Roll Does
10. A Day Like Today
11. Good Times
12. Live as One
Label: Quarto Valley Records
Hardrock Haven rating: 9/10