Sapphire Eyes | Sapphire Eyes
by Nikiforos Skoumas
– Columnist —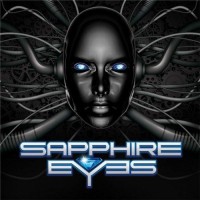 Most following the contemporary melodic rock scene are well aware of the Swedish female-fronted melodic hard rock group Alyson Avenue. Active in the early 2000s, Alyson Avenue released two highly regarded albums in Presence of Mind (2001) and Omega (2004). Shortly after front-woman Anette Olzon quit the band having being asked to replace Tarja Turunen in Nightwish, a story known too well.
Alyson Avenue keyboardist and band-leader Niclass Olsson decided against bringing in a new female vocalist, this time opting for a front man — enter Thomas Bursell. Having essentially altered the musical nature of the band, a name change was also in order. The group was re-named Second Heat with their self-titled debut being released in 2004. From there onwards both Second Heart and Alyson Avenue were put on ice up until 2010 at which point Olsson secured a multi-album record deal with fast-rising German record label Avenue of Allies; this led to the re-formation of Alyson Avenue and subsequent album featuring Arabella Vitanic at the front while a new partnership between Olsson and Bursell has come into fruition under the name of Sapphire Eyes.
Sapphire Eyes is very much in line with the musical style of Alyson Avenue and obviously Second Heat. While the songwriting on the album is undeniably AOR, the delivery is granted a harder edge thanks to the thick guitar and drums sound. Add to the above the immense keyboard and vocal harmonies that the duo of Olsson and Bursell bring to the table and you have a melodic rock combination to die for.
In a comparative basis Sapphire Eyes surpasses artistically both the Alyson Avenue of late and Second Heat. Bursell's admirable vocal range, tone and vibrato become major advantages in Olsson's musical playbook. The keyboardist takes full advantage of that fact and enters new territory with the vocal-keyboard based ballad "Can't Find the Words." It is a song based strictly on key layers and voice yet it's easily one of the most intense — therefore substantial — AOR ballads of late. From there onwards you have the expected heavy hitters in "This Love This Time," "You're my Wings" and "Only Feel Love."
It is also important to note that Sapphire Eyes operate on a project basis where the duo is joined by former and current members of Alyson Avenue and Second heat most notable being Arabella Vitanic and Anette Olzon, both performing vocal harmonies on most songs.
Overall Sapphire Eyes delivers first class adult oriented rock coated with the kind of production and performance you would expect from a melodic hard rock album of Shylock or Frontline; this is probably the best to come out of the Olsson/Alyson Avenue camp.
Genre: AOR, Melodic Hard Rock
Line up:
Niclas Olsson (keyboards, b-vocals)
Thomas Bursell (vocals)
Track List:
1. You're My Wings
2. I Want You To See Me
3. Only Feel Love
4. This Love This Time
5. Change Of Heart
6. Can't Find The Words
7. When Love Comes Alive
8. A Man The World Can Do Without
9. Someone Like You
10. Lay Down In My Arms
Label: Avenue of Allies
Hardrock Haven rating: 9/10