by Jenn Carbaugh
– Columnist —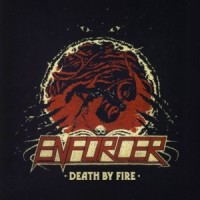 Formed in 2004, Enforcer honestly has brought back old-school, original metal. The band hails from Arvika, Sweden. In terms of modern and popular metal bands, Enforcer needs to be heard and should be in the musical forefront. The band's sound is its own, but there are elements of classic metal bands, such as Judas Priest and Iron Maiden. Death by Fire is very asethically pleasing for the ears of metal fans everywhere.
Death by Fire is this band's third album, which released on February 1. Olof Wikstrand provides the immense vocals and also contributes with guitar. Jonas Wikstrand is on drums, and Joseph Tholl also is a guitar player for the band. Tobias Lindqvist gives this band a steady and powerful bassline on this album. These members correlate their individual sounds so beautifully and with a thriving power behind it.
There is not a song that will disappoint on this album. The Death by Fire album starts out with "Bells of Hades," which is a promising start to the intense '80s-style song list. Immediately, these bells draw you in and make you want to hear more. Each song that follows brings something musically exciting. "Run for Your Life" and "Mesmerized by Fire," both provide a feel-good, head-banging instrumental line with complementing vocals. The album has riffs that inspire and catchy choruses that will stick in your head like the decade persona that this band perpetuates. The album ends with "Satan." It pumps up the energy and makes the heart beat sync up with the fast-paced percussion.
This band is played heavily and tours in Europe and the U.S. Enforcer has performed on tours, such as "Bang Your Head" and "Keep it True," which are also festivals in Germany, and the band has performed in some renowned festivals in Sweden. Death by Fire seems like an album that would make a concert worthwhile. Enforcer definitely brings a lot to the stage in terms of talent and hair-metal façade.
Genre: Speed Metal
Band:
Olof Wikstrand – vocals, guitar
Jonas Wikstrand – drums
Joseph Tholl – guitar
Tobias Lindqvist – bass
Track List:
01. Bells Of Hades
02. Death Rides This Night
03. Run For Your Life
04. Mesmerized By Fire
05. Take Me Out Of This Nightmare
06. Crystal Suite
07. Sacrificed
08. Silent Hour / The Conjugation
09. Satan
Label: Nuclear Blast
Web: http://enforcer.se/
Hardrock Haven rating: 10/10