James Williams | Eclectic Shred
by Joe Mis
– Senior Columnist —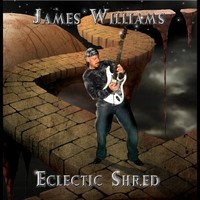 Eclectic Shred is the new release from guitar wizard James Williams. Don't let the title fool you – Williams is no more a "shredder" than Yngwie Malmsteen or Joe Satriani. Like many of the great guitarists he is a true musician, and there is so much more to his music than speed.
For those not familiar, James Williams is a veteran guitarist and a well-seasoned musician. His career has seen him record with bassist Wyman Tisdale and bassist/composer/arranger Marcus Miller, and he has performed with guitarist Norman Brown and saxophonist Gerald Albright, among others. He's been touted by Guitar Player Magazine and boosted by Shrapnel's Mike Varney – a man who knows a bit about guitar greatness. On Eclectic Shred, Williams blends his experience with classical, jazz, metal, and R&B and creates a varied and interesting sonic journey. He is ably supported by veteran musicians Mike LePond (Symphony X), Richard Tull (Phantom-X), and Matt Guillory (James LaBrie, Yngwie Malmsteen).
"B17 Flying Fortress" is as powerful as its namesake. Moody and brooding rhythms provide a solid base for soaring guitar licks and rapid-fire bluesy solos. Tempo and tone changes throughout the track carry the listener across a varied cloudscape of solid progressive metal. "Keltoi" is a short, classical keyboard instrumental that leads nicely into the massive "Dropa Stones." Rapid fire-guitars and grinding rhythms create a lively mixture of metal styles and a rather ethereal and otherworldy atmosphere – much like the quasi-mythical "Dropa stones" themselves. This is the closest Williams comes to full-on shred but there is a firm sense of song and melody here, not just a series of blistering notes and runs. Plaintive piano and synthesizer combine with orchestral and choral elements on the moody "Unborn Massacre," while on "Aushwitz" they server as underpinnings of a straight up modern rock tune reminiscent of a Vinnie Moore or Tony MacAlpine track.
"Eclectic Shred" lives up to its name. It is the strongest guitar track on the release, featuring varied tempos and tones, spiraling guitars, manic high speed runs and mellow passages. "Cruise Control" is a short and sweet mellow rock tune with a good deal of blues rock influence, and very simple and effective arrangement. Williams once again goes to the classical side on "Maxwell's Castle," but once again refrains from going over the top. It is a well-controlled and technical piece that just works on all counts. The acoustic passages are stunning. "Europa" is another classically influenced song with atmospheric acoustic passages and some intensely dark rhythm lines. It displays the full breadth of Williams' abilities, moving from classical keyboards to amazing speed riffs. The multiple tempos and sweeping range of the ten minute "Journey To Andromeda" closes the album on a high, running the gamut from shred to classical to progressive fusion. It will leave instrumental guitar fans wanting more.
There are a few off moments on Eclectic Shred, but none of them are a result of poor musicianship or lack of chops. There are a few spots of inconsistent engineering – drums are sometimes muffled and the fade outs at the end of a few tracks are a bit abrupt. Most of the drum work is synthetic, so there is the expected "mechanical" feel to some, but not all, of the drum lines. However, the overall strength of Williams' guitars and masterful songwriting make all of these minor flaws easily forgivable.
If you are looking for a solid instrumental release, look no further than James William's latest, Eclectic Shred. Each track has a unique feel and tone, so the album remains interesting throughout – there is no sense of repetition. While not a perfect release, the music manages to capture the raw talent and passion of a truly gifted guitarist and composer.
Genre: Instrumental Metal, Shred
Band:
James Williams (guitars, bass, keyboards, drum pads)
Mike LePond (bass on tracks 1 & 6)
Matt Guillory (keyboard solos on tracks 3 & 6)
Richard Tull (additional guitar solos on tracks 3 & 10)
Dave Thomas (additional guitar solos on track 3)
Track Listing:
1. B17 Flying Fortress
2. Keltoi
3. Dropa Stones
4. Unborn Massacre
5. Auschwitz
6. Eclectic Shred
7. Cruise Control
8. Maxwell's Castle
9. Europa
10. Journey to Andromeda
Label: Eclectic Shred Records
Website: http://www.cdbaby.com/cd/jameswilliams12
Hardrock Haven rating: 7.5/10