Nick Hellfort | The Mask Within
by Joe Mis
– Senior Columnist —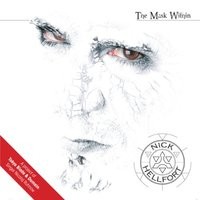 The Mask Within is the much delayed but long anticipated release from Nick Hellfort – the solo project of Tokyo Blade's dynamic front man, Nicolaj Ruhnow. Part melodic metal, part progressive metal, part old school hard rock, performed with power and intensity – Nick Hellfort rocks in every way possible.
Due to his obligations with Tokyo Blade, Ruhnow was forced to delay the Nick Hellfort project. Perhaps it was for the best, as Ruhnow decided to re-record many of the vocals and retool some of the tracks on The Mask Within based on his experiences with Tokyo Blade both in the studio and on the road. The result is a finely polished, musically mature, and well performed release.
Nick Hellfort extends it's (his?) roots back to at least 2007, when the band recorded it first demo tracks, "The Messenger" and "Crusader" (included as bonus tracks on the CD). Over the years, the group went through a few lineup changes and now consists of vocalist Nicolaj Ruhnow (Tokyo Blade, Domain), guitarists Andreas Siefert (Nachtschatten) and Matthias Holzapfel (Evertale, ex-Necrophagist), bassist Steven Wussow (Domain, Xandria), and drummer Daiv Carpenter (Flashpoint Serenade). Despite being billed as a debut release, the members of Nick Hellfort are all seasoned veterans, and the experience shows. Solid performances by all, particularly the rhythm guitars and their tight integration with bass and drums, should make any metal fan feel at home. However, the vocals are the icing on the cake. Ruhnow's power, diction and enormous range blend together the best aspects of Tim "Ripper" Owens, Rob Halford, and James LaBrie. He also does not live and die by the extremes of his range, delivering a controlled and mature performance.
Musical highlights include the raw power and odd tempo changes (and Ruhnow's maniacal laughter) on "Temple Of Kings;" the full use of Ruhnow's massive rang on "Fame Is Just A Whore;" the softer and reflective delivery – and thought provoking lyrics – of "Stepwise & Silently;" the biting social commentary of "Perception;" the brilliant bluesy bass work on "For All Time;" the entire upbeat "Lifeline;" and the super proggy sounds of "Journey Throu' A Cop Of Tea." The two bonus tracks provide and interesting look at how the band has modified its overall sound since 2007. There are a few minor flaws here – the rather pointless instrumental "The Arrival" and a few interludes that seem to drag on a bit too long, but these are easily overshadowed by the fine performances elsewhere.
The Mask Within was produced by Arne Lakenmacher, who allowed Ruhnow to explore the limits of his musical world and fully express his creativity. Varied tones and tempos fill the album, and all of the songs are well written and solidly structured. The engineering is excellent all around, and it allows all of the musicians to be heard and appreciated.
This is a blue collar album – a simple, straight forward and passionate release by one of the finest and most versatile metal vocalists active today.
Genre: Progressive Metal
Band:
Nicolaj Ruhnow – vocals
Daiv Carpenter – drums
Steven Wussow – bass
Andreas Siefert – guitars
Matthias Holzapfel – guitars
Track Listing:
1. Temple Of Kings
2. Fame Is Just A Whore
3. Stepwise & Silently
4. The Arrival
5. Perception
6. For All Time
7. Lifeline
8. The Antichrist Wore Black
9. Journey Throu' A Cup Of Tea
10. Crusaders (2007 demo)
11. The Messenger (2007 demo)
Label: Sonic Revolution/Fastball Music
Hardrock Haven rating: 9/10