Abnormal Thought Patterns | Manipulation Under Anesthesia
by Alissa Ordabai
– Senior Columnist —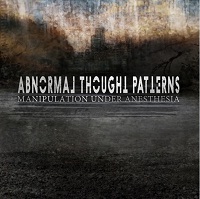 Here's a surprise: front-runners of highbrow math metal suddenly put their rational calculations on the backburner to release an album of remarkable emotional depth. The second record by prog metal trio Abnormal Thought Patterns (and their first release on Lifeforce Records) takes the band's erudite virtuosity from the test tube into the real world. If their debut album was all about sharp, impersonal frenzy of phenomenal chops and unusual time signatures, here we have a release that wants to meet the outside world – with all its darkness and all its mysteries – head on.
Virtuoso brothers Jasun Tipton (guitar) and Troy Tipton (bass) are, of course, also known for their stunning musicianship and commendable songwriting as the driving force behind the Zero Hour project. But Abnormal Thought Patters has a bolder concept which now ties together A-grade musicianship, experimentation, and exploration of some mystifying (and often bleak) human truths. Standout "Velocity and Acceleration Movement 6" gives the first hint of what the band tries to tap into here. Hypnotic ostinatos and a spellbound melody join together not to impress, but too connect with the listener.
Other tunes are more analytical, but just as intense. "Harmonic Oscillators" engages in complex structures and calculated symmetries of vigorous, note-perfect mathematical metal. Several themes are developing at once, moving in and out of each other, but between them a restrained but urgent undercurrent of eerie darkness bleeds through. This shadowy, sorcerous streak fully surfaces on gems such as "Calculating Patterns" and "Autumn". On "Calculating Patterns" the guitar channels Pat Metheny's jazz cool with knowing depth, while "Autumn" blends jazz and rock to transport you into a witchy place where a simple melody weaves a vibe both chilling and moving.
And for all the excitement of the band's beautifully executed and intelligent virtuosity, it is this newly found, searching mysticism which makes this album one of the best records of 2013. It presents an enigmatic, at times haunted vision, but the fire at the heart of the band's musicianship prevents the album from sinking into depression. Otherworldly yet human would be the most laconic way to sum up this extraordinary release.
Genre: Prog Metal, Jazz
Personnel:
Jasun Tipton – guitar
Troy Tipton – bass
Mike Guy – drums
Track Listing:
1. Velocity and Acceleration Movement 5
2. Velocity and Acceleration Movement 6
3. Velocity and Acceleration Movement 7
4. Velocity and Acceleration Movement 8
5. Calculating Patterns
6. Harmonic Oscillators
7. String Lullaby
8. Autumn
9. Manipulation under Anesthsesia
10. Electric Sun 2.0
11. Quintessence
Label: Lifeforce Records
Online: www.abnormalthoughtpatterns.com
Hardrock Haven rating: 9/10