Age of Days | Radioactivity
by Mark Allen
– Senior Columnist —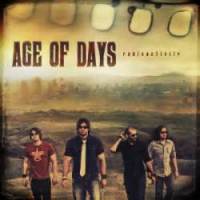 If you're weary of modern hard rock that is so blatantly mainstream that every song is designed around ear-candy hooks and radio-ready choruses, then you'll want to avoid this new Age of Days (formerly Age of Daze) album. But if you can't get enough of that commercial sound, you should run out and purchase a copy with the kind of dazzling speed that would leave a cheetah in the dust. Because Radioactivity is one of the best examples of the modern rock genre you'll hear this year.
This is the album that should catapult Age of Days to the top. The first single, "Bombs Away," was the perfect choice, a bombastic hard rock anthem with a rollicking good chorus that rivals the best of Hinder or My Darkest Days. Peel back the angst and you might even find that it's really a romantic song; what girl's heart wouldn't go pitter-patter at lyrics like, "You're a no class, white trash, royal pain right in the ass / But I'm here to stay." That's amore, baby.
Age of Days do not break any new ground, nor is there anything brave or courageous or innovative about what they do. But that's not the point. They nail the modern hard rock formula, from the beefy production to the grittily soulful vocals to the punchy power chords to the catchy choruses to the crunchy guitars. It may not be gourmet cuisine, but it's the modern rock equivalent of a juicy cheeseburger cooked just right. If you're looking for something with fancy trimmings or an avant-garde edge, you're poking around in the wrong genre.
Song-wise, the band delivers with all the writing skills of bigger names like Nickelback, Daughtry, or Rev Theory, with any dips in quality being minimal hiccups rather than major catastrophes. The flow is well-executed, the tracks arranged so that boredom is as nonexistent as the Pope's presence on a porno shoot. "Now or Never" has a body-moving rhythm that is impossible to resist and the chorus soars high with some tasty backing vocals. "Broken" is a beautifully moody, dark-hued, mid-tempo rocker with poignant lyrics; just one listen and you'll know why it was chosen to be the second single. "I Did It For Love" comes out cranking with some kick-ass rock 'n' roll chops and a spitfire chorus with a lyrical sense of humor as the singer tries to convince everyone that he "did it for love," but finally gives up and admits, "F*ck it, I did it for lust." Ah, such refreshing honesty.
Age of Days check off all the crucial modern hard rock criteria and do so in top-notch fashion. Notify the other albums in your collection that you'll be ignoring them for a while, because once you slip Radioactivity into your stereo, you won't want to take it out for days. There are a lot of piss-poor bands polluting the radio these days, but Age of Days sport enough of an edge and a keen knowledge of how to navigate their chosen genre to avoid being lumped into the cesspool of cookie-cutter banality. Sure they sound like a lot of other modern hard rock bands…but they sound like the best of 'em. And that makes all the difference.
Genre: Modern Hard Rock
Band:
Tim Morrison (vocals, guitar)
Matt McLaughlin (bass, backing vocals)
Brent Alvey (lead guitar)
Mike Langford (drums)
Track Listing
1. Bombs Away
2. Now or Never
3. Broken
4. Justify
5. Live Out Loud
6. I Did It For Love
7. Ready To Go
8. Wrecking Machine
9. Not Breathing
10. All I Know
Label: Cordova Bay Records
Webpage: www.facebook.com/ageofdays
Hardrock Haven rating: 8.6/10