by Joe Mis
– Senior Columnist —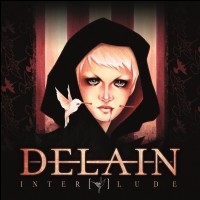 The Dutch symphonic metal band Delain will be shortly releasing Interlude, a CD and DVD combo package, as a tribute and "thank you" for their fans and supporters. Rather than approaching this as a "best of" or live CD, Delain has produced a 13-track release with two new tracks, two new versions of published songs, three covers, and six live songs. Please note that this review covers the audio CD only.
Interlude collects tracks from across Delain's catalog, and freshens up a few, giving the band a bit of a break from compositional duties and a chance to simply cut loose and have some fun. Delain got its start in 2002, when ex-Within Temptation keyboard player Martijn Westerholt conceived the project and released a demo. Delain earned a contract with Roadrunner in 2005 after Westerholt joined up with vocalist Charlotte Wessels. 2006's Lucidity was a true project album, and Delain enjoyed contributions from a number of well-known metal performers. Current drummer Sander Zoer joined as part of the touring band. After 2009's April Rain, bassist Otto Schimmelpenninck van der Oije and gutarist Timo Somers became full time members. 2012 saw the release of the well-received We Are The Others, and now Interlude in 2013.
The two new tracks are fantastic, and show that the band has moved a bit away from the "Gothic" metal arena – although many goth elements are still in place. If these are a sign of what the next Delain album will be, then Delain has a very bright future ahead. "Breathe On Me" is sensual and sexy rocker, driven by a slick and flowing bass line, great guitar hooks, and fine vocals. "Collars and Suits" is a more symphonic social commentary track with grinding guitars, big drums, and effective keyboards. More melodic metal than progressive, symphonic, or Gothic, these two songs plus the remakes of their older songs show that Delain continues to evolve as a band, and that there are great things ahead for the Dutch five-piece.
"Are You Done With Me" is a crisper remix of the 2012 song, proving that Charlotte Wessels belongs in the pantheon of great female metal vocalists. Her clarity and range are jaw-droppingly good, and the mix highlights her true ability as a singer (in the pure definition of the term). The ballad- orchestral version of "We Are The Others" makes this heartbreaking tune even more powerful and inspirational, and Sophie Lancaster would indeed be proud.
The cover tunes are well done studio versions of Talk Talk's "Such A Shame," an emotional and heartfelt remake of The Cranberries' "Cordell," and a rocking version of Bronski Beat's "Smalltown Boy." Each tune remains fairly faithful to the original, but receives a modern Delain twist that illustrates the breadth of the band's talents and influences. They are all done with an overriding sense of fun and enjoyment – the best reasons of all to do cover tunes.
The live tracks were all recorded at the Metal Female Voices Fest in 2012. Obviously the mixes are not up to pure "in studio "standards, but they are very well recorded. These six tracks demonstrate the true talents of the band, as they pull off the complex and intricate songs without a hitch. They are tight and enthusiastic, and the crowd seems to be into the performance. "Get The Devil Out Of Me" and "Not Enough" stand out as the best of the bunch.
If you are a Delain fan, Interlude is a no brainer purchase thanks to the new material and well done cover tunes. It will also be appreciated by symphonic-Gothic metal and female-fronted metal connoisseurs. If you are new to the band, it is a great starting point because of the diversity of material – not to mention the DVD…
For those curious, the DVD consists of: live versions of "Invidia," "Electricity," "'We Are The Others," "Milk and Honey," and "Not Enough" recorded at the MFV Fest; some behind the scenes footage spanning the band's existence; and the videos for "Get The Devil Out Of Me," "We Are The Others," "April Rain," and "Frozen."
Please visit http://sophielancasterfoundation.com/ to show your support against hate crimes. "Normal is not the norm; it's just a uniform…"
Genre: Gothic, Symphonic Metal
Band:
Charlotte Wessels (vocals)
Sander Zoer (drums)
Otto Schimmelpenninck van der Oije (bass)
Martijn Westerholt (keyboards)
Timo Somers (guitar)
Track Listing:
1. Breathe On Me (new song)
2. Collars And Suits (new song)
3. Are You Done With Me (new single mix)
4. Such A Shame (cover)
5. Cordell (cover)
6. Smalltown Boy (cover)
7. We Are The Others (new ballad version)
8. Mother Machine (live)
9. Get The Devil Out Of Me (live)
10. Milk And Honey (live)
11. Invidia (live)
12. Electricity (live)
13. Not Enough (live)
Label: Napalm Records
Website: http://www.delain.nl/
Hardrock Haven rating: 9/10