by Justin Gaines
– Senior Columnist/News Editor —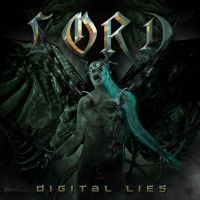 Australian traditional/power metal force Lord is back with a new album, titled Digital Lies. It's the fourth full-length from the band, which of course was formed as a solo project for (now former) Dungeon frontman Lord Tim, and while Lord may have started as something of a departure from the Dungeon sound, it didn't take long for them to become a heavy hitting power metal band in their own right.
Digital Lies is, quite frankly, a monster of an album. This really captures not only the best elements of the Lord sound, but of the power metal genre as a whole. The driving rhythms, melodic lead guitar work, intricate solos and of course the strong vocal performances (including the background vocals) all come together brilliantly here, and we get just enough keys to add some atmosphere and elegance without going overboard with faux symphonics. This is an album that can rival Brainstorm and the long-absent Tad Morose for combining power, melody and heaviness, and there are moments that even recall progressive bands like Evergrey and Vanden Plas. And while it's not a concept album, enough of the songs on Digital Lies tie together lyrically (probably not the one about Conan the Barbarian though) to maintain a certain atmosphere throughout the whole album.
It's hard to call out individual highlights when the whole album is this strong, but if you're looking to "try before you buy," songs like "Betrayal Blind," "The Chalkboard Prophet" and definitely the title track ought to make you a believer. The closing epic "Battle of Venarium" (yes, the one about Conan) is flat-out amazing too.
Lord Tim already has an impressive resume, but this may be his finest work yet. There is no logical way any Lord or Dungeon fan could be disappointed by Digital Lies, and it's more than good enough to win over a host of new fans to the Lord camp. If you're putting together a list of the best power metal albums of 2013, Digital Lies definitely deserves a spot near the top.
Edition Notes: The Australian pressing of Digital Lies includes a newly recorded version of "Footsteps in the Sand" (originally on Lord's 2003 debut A Personal Journey) as a bonus track. It's a nice addition, but probably not essential unless you're a die-hard fan.
Genre: Traditional Metal, Power Metal, Melodic Metal
Band:
Tim "Lord Tim" Grose (v) (g) (k)
Andy Dowling (b) (v)
Mark Furtner (g) (v)
Damien Costas (d) (v)
Track Listing:
1. Incipio
2. Betrayal Blind
3. Digital Lies
4. Point of View
5. Walk Away
6. 2D Person in a 3D World
7. Final Seconds
8. The Last Encore
9. Because We Can
10. The Chalkboard Prophet
11. Battle of Venarium
12. Footsteps in the Sand (2013 Re-recording)
Label: Dominus
Website: www.lord.net.au
Hardrock Haven rating: 8.75/10