Rich Antonelli | Voiceless
by Alissa Ordabai
– Senior Columnist —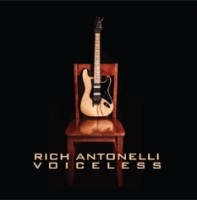 $kyhigh guitarist and lead guitarist of the Bon Jovi tribute band Bon Jersey drives home a simple point on his debut release. Fame and hype – he reminds us – don't guarantee substance or quality. Bigger names on bigger budgets have been releasing ambitious instrumental albums this year, but Antonelli's debut is one of the rare few that connect with you immediately, bypassing tall talk and pretensions.
This warm, flowing record comes straight from the heart, restoring the faith in the brand of glam metal that over the years has been so badly compromised by the industry's profit-chasing and egomania. But you won't hear any self-obsessed craving for renown and fortune on these tracks. Having no big label or an expectant fan base to be accountable to, Antonelli chooses the most straightforward route to reach his audience – by being himself.
Standout "Mechanical Presence" sums up Antonelli's simple, but organic way of blending traditional hard rock and glam metal. Swaggering strut of the opening theme gives fires up the transparently sharp melody which gradually uplifts and transports you. And despite Antonelli's commendable chops, it's the melodies that grab you. Direct feeling and a sense of mystery channelled straight from the heart instantly make Antonelli stand out from legions of chops-men and self-proclaimed futurists. And while the album's DIY production does make some tracks sound more like sketches than fully developed pieces, once Antonelli latches onto a melody, he's got you hooked – line and sinker – such is his gift for lucidly poetic writing.
The final surprise comes in when the album is almost over and you realize you forgot to draw any parallels between Antonelli and his exemplars Bon Jovi. The closing track "Peace", while nodding to Sambora, rings with the kind of hopefulness we haven't heard from Bon Jovi for a long time. And this is where you remember again that it isn't celebrity and publicity that feed the soul. Instrumental guitar music written and played underneath the radar of corporate rock remains the gold mine of beautiful, meaningful music. Simply because undiscovered players – while working on small budgets – can afford the ultimate luxury of being themselves.
Genre: Hard Rock, Glam Metal, Instrumental Rock Guitar
Track listing:
1. The Beginning
2. Mechanical Presence
3. Brie's Song
4. Hannah's Song
5. Peaceful Sorrow
6. Giddy Up!
7. Saturday Night Serenade
8. Rattlesnake Stew
9. Groovy Tuesday
10. Afraid
11. Peace
Online: www.richardantonelli.com
Hardrock Haven rating: 7.5/10