Skid Row | United World Rebellion–Chapter One
by Mark Allen
– Senior Columnist —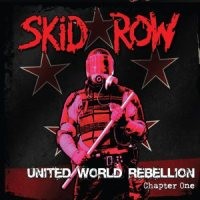 There are plenty of people out there who think Skid Row should have come to a screeching halt when Sebastian Bach stopped doing the rattlesnake shake and left the band. And based on the subpar caliber of Thickskin and Revolutions Per Minute (both enjoyable enough in their own right but hardly classics), those people could make a strong case. But instead of hanging up their big guns and fading into the oblivion of '80s nostalgia, the band has soldiered on with Johnny Solinger at the vocal helm.
While legions of fans have turned away because they can't stand the heartache of watching this once-great band reduced to a shadow of its former self, other fans have kept the faith despite Skid Row's reinvention. But despite their loyalty—or perhaps because of it—those steadfast believers are holding onto the hope that the band will one day return to form. The loss of Sebastian is not insurmountable—Solinger may not be Bach caliber, but he's not exactly makin' a mess of things either—but the songwriting needs sharpening.
United World Rebellion–Chapter One is the first in a series of planned EPs. After tolerating the band's prior experiments with modern rock and punk-metal, fans are eager to see if Skid Row has finally returned to their heavy roots, if they can still tear it up like a midnight tornado. And when the first song, "Kings of Demolition," comes slamming out of the speakers, those fans will thrust their fists skyward and scream thanks to the gods of metal, for this is by far the best hard rock anthem the band has released since Bach bade the microphone goodbye. It's a big, ballsy, bad-ass head-banger with raging rhythms and smoking choruses and in your face attitude. You'll be praying to Quicksand Jesus that the whole EP is this good.
Unfortunately, the band is unable to capitalize on this early momentum. They blow their load early and while they manage to get it up on a couple other tracks, they're just not as good as that terrific opener. "Let's Go" keeps things rocking and is actually a pretty solid tune, but the next song is dullness personified as Skid Row try to recapture their balladic glory with "This is Killing Me," which is probably what you'll be thinking as the song plays. "Get Up" is also a really good song…for Egypt Central or Pop Evil. In other words, it's a modern hard rock track with lots of low end muscle, a head-stomper of a chorus, and tough guy gang vocals. A cool track for sure…but it ain't Skid Row. The EP closes with "Stitches," which is so utterly forgettable that it will require an iron will not to read the band the riot act.
Once upon a time, the youth gone wild would have cut their wrists and waded through shark-infested waters if that's what it took to get the latest Skid Row album. But the youth gone wild are now the middle-agers gone bald and the Skid Row glory days are long gone. Granted, this latest effort has one great song and two good ones, so it's not all just wasted time, but with the exception of "Kings of Demolition," there is nothing here that compares to their pinnacle. Hopefully the band can put all this subpar monkey business behind them and the next chapter in the Skid Row saga will be more interesting.
Genre: Hard Rock, Metal
Band:
Johnny Solinger (vocals)
Dave "Snake" Sabo (guitar)
Scotti Hill (guitar)
Rachel Bolan (bass)
Rob Hammersmith (drums)
Track Listing
1. Kings of Demolition
2. Let's Go
3. This is Killing Me
4. Get Up
5. Stitches
Label: Megaforce Records
Webpage: www.skidrow.com
Hardrock Haven rating: 7/10