Huntress | Starbound Beast
by Matt Karpe
– Columnist —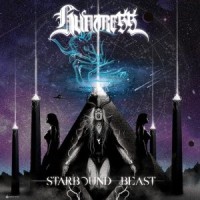 Californian quintet Huntress are back with the follow up to last year's debut album Spell Eater.
Starbound Beast fuses melodic heavy metal with elements of thrash and doom, and in front-woman Jill Janus, Huntress have a vocalist with such a diverse range in her voice that one minute you can be seduced by her delicate singing, and in the next breath be scared half to death by her demonic howling in Black Metal style.
After a doom laden intro of "Enter The Exosphere", "Blood Sisters" unleashes itself with some good guitar riffs and an excellent solo from Blake Meahl. Janus' vocal variation is on full show as her rasping voice trades with some high pitched shrieking.
Title track "Starbound Beast" has an infectious chorus, arguably the most melodic on show throughout, before the song turns progressive where some of the best guitar work is performed by Meahl and second guitarist Anthony Crocamo.
"Zenith" and "Oracle" are the two tracks with thrash metal influences, and the drumming by Carl Wierzbicky is heartstoppingly deafening.
"Alpha Tauri" closes the album with a six-and-a-half minute epic full of blistering instrumental and all the styles of Janus' voice available to be heard one last time.
The standout track of the album however, came a long time before the end, but it deserves to be left till last.
"I Want To Fuck You To Death" is a sleaze fueled modern metal classic-in-the-making. Co-written by metal legend Lemmy, the track has in places small Motörhead similarities. The raunchy guitar work is accompanied by some pounding drumming, and Janus sings Lemmy's lyrics both sexily and seductively. It's unlike any other Huntress song, and maybe because of this, it makes it that little bit more valuable to the bands discography. "I Want To Fuck You To Death" is catchy as hell and it will surely become a fan favorite.
All in all Starbound Beast isn't a bad album, and you can see why Huntress has received widespread exposure since their inception into the heavy metal world. Jill Janus is definitely a vocalist to keep an eye (and ear) on in the future, and the musicianship of Meahl, Crocamo, Wierzbicky and bassist Ian Alden contains a bundle of talent. The guitar solos are a real highlight, and no matter what the style of each song is, Meahl and Crocamo have come up with a tune that suits to perfection.
After Starbound Beast, Huntress could now be Star(dom)Bound.
Genre: Melodic Heavy Metal
Band:
Jill Janus- Vocals
Blake Meahl- Guitar
Anthony Crocamo- Guitar
Ian Alden- Bass
Carl Wierzbicky- Drums
Track Listing:
1. Enter The Exosphere
2. Blood Sisters
3. I Want To Fuck You To Death
4. Destroy Your Life
5. Starbound Beast
6. Zenith
7. Oracle
8. Receiver
9. Spectra Spectral
10. Alpha Tauri
Label: Napalm Records
Webpage: www.huntresskills.com
Hardrock Haven Rating: 7/10