by Mark Allen
– Senior Columnist —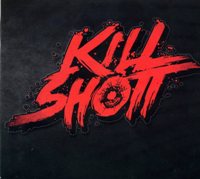 This Australian band is gunning for that big, loud, in-your-face sleaze-rock sound and while not every aspect is a perfect bulls-eye, they hit the mark more than enough to score a—wait for it—kill shot. The drums smack your ears like sonic bullets, the guitars rip and tear with the kind of six-string pyrotechnics too rarely heard in hard rock anymore, and ass-kicking attitude oozes from every note.
In fact, attitude is what this band is all about—their foundation, their roots, their raison d'etre. This is sleaze-metal with zero alternate pretensions. No heart-tugging ballads, no songs about making sweet love or holding your girl tenderly in your arms while kissing away her tears … these sleaze slingers ain't got time for the sweet 'n' mushy shit. In the words of Kill Shott themselves, this EP is for those times when you just need a shot of whiskey, a dirty woman, and an even dirtier rock 'n' roll band.
Kill Shott exhibit serious potential on this 5-song EP, proving they have the chops to be contenders in the retro-rock game. Their sound is pure Sunset Strip, similar at times to '80s legends like L.A. Guns or more recent revivalists like Hardcore Superstar, albeit in more raw, sleazier package. In terms of vibe and intensity and swagger, some Guns N' Roses hero worship also surfaces.
Some of the choruses are great, a couple could use a little sharpening to make them catchier, but none of them deserve to be flushed down the toilet like your morning ablutions after a night of binging on cheap beer and atomic Buffalo wings. The band eschews the bombastic pop-metal style of groups like Reckless Love or De La Cruz in favor of something leaner and meaner, something more in line with their raw and reckless energy. Sure, it's all a little rough around the edges, but the band makes it work.
"Crawl" kicks things off with cranked-up fury, showcasing the blistering axe-work that is easily one of the best attributes of this album. "Bleeding Me Dry" thunders along on a rhythmic backbone that could almost be described as bouncy were it not for the sizzling guitars and punchy power. This is the standout track, the one that gets your head banging, your boots tapping, and your body moving. Things take a heavier turn with "D.W.Y.T.," which unleashes a vicious groove that lets the bottom end have its moment in the spotlight, proving the bassist and drummer aren't any slouches either, just in case you thought the guitarist was going to hog all the glory. The chorus goes anthemic and those genre-mandated gang vocals are used to great effect.
The retro-sleaze resurrection has really taken off recently and Kill Shott are a welcome addition to the movement. Judging from the caliber of this EP, currently available in professionally-packaged CDR format at www.demondollrecords.com, the band has got enough powder in their keg to make an explosion on the scene in the years to come. Go ahead, give 'em a shot.
Genre: Hard Rock, Sleaze Rock
Band:
Ted Dempsey (vocals)
Chris Gunslinger (lead guitar, rhythm guitar)
Tommy Sunset (bass)
Nick Caligula (drums)
Track Listing
1. Crawl
2. 50 Cold
3. Bleeding Me Dry
4. D.W.Y.T.
5. Hunt You Down
Label: Independent
Webpage: www.facebook.com/killshottband
Hardrock Haven rating: 8/10