LIVE! | Joe Satriani in London
by Alissa Ordabai
– Senior Columnist —
June 17, 2013 at Shepherd's Bush Empire in London, UK —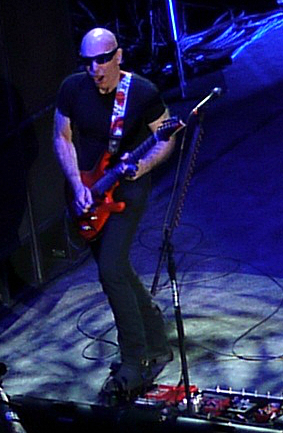 Far from igniting the same furore as his groundbreaking albums did some 27 or even 15 years ago, Satriani's new release Unstoppable Momentum has nevertheless done a brilliant thing – it set the maestro on the road again. London's 2000-seater Shepherd's Bush Empire was packed on the night, the stalls heaving, and the upstairs levels rising in a standing ovation at the end of the show – something you rarely see at this venue. Finishing the set with "Surfing with the Alien," Satch left the crowd clap and chant ad delirium until finally giving it a three-song encore. You'd think all the success of an almost three-decade career would tempt any rock star to start cutting corners, but Satch has never been that kind of musician. He either gives you his all or he doesn't play.
These days Satriani defies the advancement of time like a true fighter. His chops remain as stunning as at the start of his career. And although the tracks on the new record stand down to the songwriting on Surfing with the Alien or Crystal Planet (or even his more recent releases of the past 10 years), they don't surrender an inch in terms of technique. To fully enjoy it, you really have to see Satriani live — not only for the impro, or for displays of phenomenal virtuosity at superhuman speed, but also to see and hear him at slow tempo to fully appreciate how the jewelled nuances convey subtle gradations of emotion.
"Cryin'" – the biggest highlight of the set – showed just how crucial his chops are to the overall compositional plan. If not for the technique with all the perfect bends and exquisite vibrato, half of the meaning of the piece would have been left undelivered, no matter how breathtaking the melody. With eyes in the audience fixed on the stage, the feel in the room was still of true magic unfolding in real time, everyone looking inward and at the same time being transported beyond self-awareness. Men in suits and white shirts, metalheads, grey-haired middle class men with their wives, women in evening dresses, regular girls and guys in their 20s – they all looked both lost and at home, focused and at the same time in a fog. A case of no-nonsense spell-casting at work, and something you almost never witness at rock concerts nowadays.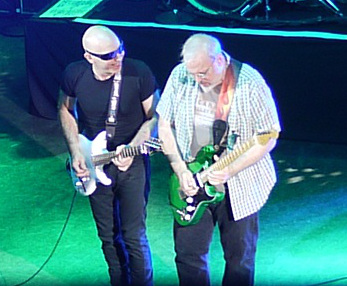 Knowing how to create introspective moments like no other guitarist on today's rock scene (apart from, of course, Jeff Beck), Satch can also take you from the tranquility of a private moment on a roiling joy ride – faster than a speeding bullet. "Ice 9" and "Surfing with the Alien" sound as fresh these days as they did quarter of a century ago. Drastic emotional contrasts is what makes his shows stand out among those of other players. But, actually, scratch that out. It's not only Satriani's emotional amplitude that makes him unique. It's also his tremendous gift as a composer who can make instrumental guitar both sophisticated and accessible, as well as his out-of-this-world technique, and his ability to keep his feet planted firmly on the ground.
One of those down-to-earth moments unfolded while trading call-and-response licks with Mike Kenneally – a fun jammy exchange between two players that added a cozy dimension to the set that at times felt like a visitation from another planet. And although once the show was over you wished he'd improvised more, Satriani's ethos for playing live is different from "get out there and see what happens" kind of adventurousness. Despite his formidable erudition, he remains fundamentally a straightforward hard rock musician, albeit the first one to make high-tech rock guitar a thinking man's pleasure without betraying the grassroots.
Set List:
1. Cool #9
2. Devil's Slide
3. Flying in a Blue Dream
4. Unstoppable Momentum
5. The Weight of the World
6. Ice 9
7. The Crush of Love
8. I'll Put a Stone on Your Cairn
9. A Door into Summer
10. Lies and Truth
11. Satch Boogie
12. Shine on American Dreamer
13. Three Sheets to the Wind
14. Cryin'
15. Jumpin'In
16. Jumpin' Out
17. A Celebration
18. Always With Me, Always With You
19. Surfing with the Alien
Encore:
1. Crowd Chant
2. Summer Song
3. Rubina