Masterplan | Novum Initium
by Justin Gaines
– Senior Columnist/News Editor–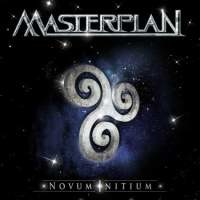 It's been three years since the last Masterplan album (2010's Time To Be King), and to no one's surprise, the melodic metal band has gone through yet another lineup change. This time around, founding guitarist Roland Grapow and keyboardist Axel Mackenrott are joined by bassist Jari Kainulainen (ex-Stratovarius) and drummer Martin Skaroupka (Cradle of Filth). The big change is of course the departure of on again-off again vocalist Jorn Lande. Rather than bring back one-time frontman Mike DiMeo, Masterplan has enlisted Thunderstone/At Vance singer Rick Altzi.
The new album, Masterplan's fifth full-length release, is titled Novum Initium, which is Latin for "new beginning." It's an appropriate title given the lineup changes, but as to the music itself, not much has changed, which is a good thing. From their debut album Masterplan – whatever the lineup – has been one of the best bands in the European melodic metal scene, and that remains the case here. Novum Initium is a very strong album that follows in the path of previous Masterplan releases. Grapow is brilliant at balancing scorching riffs with sublime melodies, the rhythms are tight, and the keyboards are used (never abused) to great effect. Altzi is a great vocalist in his own right, and he fits Masterplan's sound perfectly. You don't really even miss Jorn until the closing title track, where Altzi seems to be doing a Jorn impression. It's still a monster song, clocking in at 10 minutes and with a great buildup. "The Game" is another highlight, and one that's sure to get heads banging, and songs like "Black Night of Magic" and "Return From Avalon" would have fit perfectly on the Masterplan debut.
Unless you're in the "no Jorn, no interest" camp, it's hard to imagine any Masterplan fan not enjoying Novum Initium. It's a very strong melodic metal album from start to finish, and is without a doubt worthy of the Masterplan name. Fans of Pretty Maids, Royal Hunt, Nocturnal Rites, Jorn and European melodic rock in general will not want to pass Novum Initium by.
Edition Notes: The physical release of Novum Initium comes in a digipack and includes the bonus tracks "1492" and "Fear the Silence."
Genre: Melodic Metal, Power Metal, Heavy Metal
Band:
Roland Grapow (g)
Axel Mackenrott (k)
Jari Kainulainen (b)
Martin Skaroupka (d)
Rick Altzi (v)
Track Listing:
1. Per Aspera Ad Astra
2. The Game
3. Keep Your Dream Alive
4. Black Night of Magic
5. Betrayal
6. No Escape
7. Pray on My Soul
8. Earth Is Going Down
9. Return From Avalon
10. Through Your Eyes
11. Novum Initium
Label: AFM
Website: www.masterplan-theband.com
Hardrock Haven rating: 8.25/10