Oliva | Raise the Curtain
by John Kindred
– Publisher —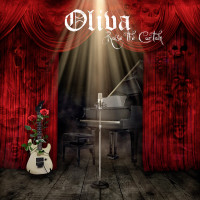 Jon Oliva's first "solo" album arrives with the release of Raise the Curtain. While some will argue that Oliva went solo with his other band, Jon Oliva's Pain, others could say this is the first album on which Oliva primarily plays all instruments. The other caveat that may leave a few frowns is that Oliva didn't write this album alone. Working with Dan Fasciano, the duo's combined effort, along with revisiting some of Criss Oliva's unreleased music, also makes Raise the Curtain look less like a solo album and more of a collaborated effort that falls under the moniker of OLIVA.
Ultimately, the criticisms shouldn't detract from listening to the 11-song album; 12 songs, if you count the additional song "Truth," which is only on the first-edition digipak. Oliva's work in Savatage, Doctor Butcher and Pain left us with ground-breaking music that pushed the envelope of progressive metal, rock opera and traditional metal compositions. Raise the Curtain finds Oliva revisiting his influences from '70s prog and theatrical rock. Melding those ideas with the sound he created with Savatage and Jon Oliva's Pain has produced a diverse sounding album. Harder, edgier songs are tied together with softer rock opera opuses.
"Raise the Curtain" opens the CD with a theatrical 70s prog-rock number. It's a compositional piece that fits right at a home as an opening track to an album with a storyline or theme. But as Raise the Curtain progresses, the explorative nature of the music and the lyrical themes are not particularly tied to one theme or storyline. Some will criticize the variety of musical genres: The '70s influences in the guise of synths and Hammond-like keyboards or the pure metallic sounds of Savatage or Pain do not occur throughout the album. Yet, this actually is what defines Raise the Curtain as a true Jon Oliva solo album. Oliva is able to work without the Savatage, TSO or Pain's signature sounds and styles getting in the way. Oliva takes us to a world in which his influences and inspirations have helped to build his musical and vocal talent.
There is an emotional element at work here, as Oliva taps into his brother's unheard music. His lyrics are poignant and heavy, and his voice carries the weight of his emotions, making listeners feel his anguish or anger. While the keyboards are an integral part to the music, as whole, there are some fairly heavy songs, such as "Soul Chaser," "Big Brother" and "Armageddon." "Ten Years" has a groove that is driven by a horn section. "Soldier" and "I Know," both, feature Oliva's signature piano melodies. "Can't Get Away" is bluesy number with a certain Beatles influence. "Stalker" and the "The Witch" feature plenty of dynamic changes. "Father Time" has an infectious hook. The bonus track, "The Truth," mixes classical and blues-inspired motifs, with acoustic guitar rhythms and a soft vocal melody.
Throw away preconceived notions as to how a Jon Oliva album is supposed to sound, and enjoy this as the album that he set out to record. While Oliva has created a particular style of music in Savatage, Pain or Doctor Butcher on Raise the Curtain, he allows himself to travel down musical roads listeners have yet to hear him explore, and that should be what fans want; not another rehash of music that he already has done before.
Genre: Progressive Metal, Hard Rock
Band:
Jon Oliva – Vocals, Guitar, Bass, Keyboards, Drums on 3 tracks
Christopher Kinder – Drums
Howard Helm – guitar solos
Track Listing:
01. Raise The Curtain
02. Soul Chaser
03. Ten Years
04. Father Time
05. I Know
06. Big Brother
07. Armageddon
08. Soldier
09. Stalker
10. The Witch
11. Can't Get Away
12. Truth (bonus track appears on the Ltd. first edition comes as Digipak)
Label: AFM Records
Web: www.jonoliva.net
Hardrock Haven rating: 10/10