Tristania | Darkest White
by Joe Mis
– Senior Columnist —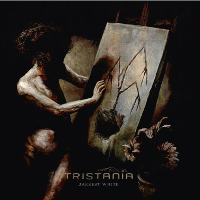 Fans of gothic metal, rejoice! Tristania, one of the genre's true pioneering bands, has just released their seventh studio album entitled Darkest White. The Norwegian powerhouse act has a storied fourteen year history stretching back to their 1998 debut – and they haven't lost a step thanks to some much needed lineup stability. Darkest White contains all the near-theatrical arrangements, darker moods, and diverse tones that fans of the band would expect – delivered with a solid three-singer attack and technically tight musicianship. After numerous line-up shuffles, the now stable group has really hit their stride again, producing an album that clearly outshines their previous effort (2010's middling Rubicon).
Tristania has always focused on delivering solid vocal performances, and continue on with the duet of the angelic Mariangela Demurtas and the theatrical Kjetil Nordhus. Demurtas has a silky, clear voice and she remains her own singer rather than pushing towards the operatic stylings of other Gothic bands. Nordhus delivers with great emotion and depth, whether singing softly and clearly or doing some Broadway-style emoting. Guitarist Anders Høyvik Hidle now contributes a good amount of growled / death metal vocals, giving the band a bit of "beauty and the beast" sound at times. Overall, Tristania continues to deliver the clear and precise metal that has won them a worldwide following. Excellent musicianship backs up the great vocal harmonies, delivered by guitarists Hidle and Gyri Losnegaard, keyboard player Einar Moen, and bottom end Ole Vistnes (bass / backing vocals) and Tarald Lie (drums).
"Number" opens the release with growled vocals and a kicky drum line, intense bass and great guitar hooks. Demurtas and Nordhus also contribute well done duet vocals making this track the quintessential example of the rebuilt Tristania. The heavy and intense "Darkest White" showcases the male vocalists. This track has a more conventional heavy metal feel to it, with strong contributions from guitars, bass and drums. "Himmelfall" is a slower, darker rock tune with hooky guitars and a great rolling rhythm line, and theatrical vocals by all. "Requiem" is a sweeping, epic soft track – very different from the previous songs. Demurtas' voice is at its best here, and the softer keys and guitars combined with multi-layered vocal harmonies make it arguably the best track on the album. The languorous vocal lines of "Diagnosis" contrast nicely with the high speed rhythm lines, and both carry emotional intensity.
"Scarling" starts off as almost an old school rocker, but becomes a moody progressive / Gothic track driven by vocals and drums. The vocal chorus, and interplay amongst the three leads is quite impressive. "Night on Earth" features great growl vocals over a simple but effective guitar riff and a real head banging rhythm line. The haunting "Lavender" is a major contrast, filled with soft guitars and mellow, soft vocals – the epitome of dramatic rock. "Cypher" is a somewhat gloomy sounding rocker with very well done male vocals and a brooding rhythm line. "Arteries" wraps up the CD, and features great back and forth between growl and clean voices along with top notch drum and bass.
Darkest White is a very good release from a veteran band. The returning lineup now has a good deal more experience working as a team and has gelled into something special. Although the band's technical abilities were never in doubt, they have addressed the weaknesses apparent in their last album – the song structure is better, the lyrics and themes more consistent, and the members of Tristania now seem more comfortable working together. They are tight and confident, once again pushing musical boundaries. Diversity in song style, tempo, and tone highlight the band's superb use of multiple singers, and keeps the album interesting throughout. The excellent production values and strong engineering allow the many subtleties and great depths of the music to flow without seeming forced or unnatural.
Highly recommended for fans of the genre.
Genre: Gothic Metal
Band:
Mariangela Demurtas (vocals)
Kjetil Nordhus (vocals)
Anders Høyvik Hidle (guitars, growls)
Gyri Losnegaard (guitars)
Ole Vistnes (bass, backing vocals)
Tarald Lie (drums)
Einar Moen (keys, programming)
Track Listing:
1. Number
2. Darkest White
3. Himmelfall
4. Requiem
5. Diagnosis
6. Scarling
7. Night On Earth
8. Lavender
9. Cypher
10. Arteries
Label: Napalm Records
Website: http://www.tristania.com/
Hardrock Haven rating: 8.5/10